OWEN Howe ruled the roost on Wednesday night as his two goals drove Bristol Manor Farm to a 3-1 win over Tavistock at Langsford Park.
Howe, who opened the scoring in each half, was joined on the visiting side of the score sheet by Evander Grubb. Liam Prynn grabbed Tavistock's goal shortly before half-time.
'It's disappointing,' admitted Lambs boss Stu Henderson. 'I thought we probably had the most chances but we are playing at a level where you've got to be clinical.
'At 1-1 we had two good chances, their player [Howe] has peeled off from a throw-in and it's a great strike from 25 or 30 yards but I felt we could have defended it better. Then the third goal was a mistake in the middle of the park, so it is frustrating but we know it isn't going to be easy at this level.'
Languishing third-bottom in Southern League Division One before kick-off, the Farmers got off to a dream start when Marcus Day was fouled on the edge of the penalty area. The subsequent free-kick found Howe, who belted a volley home.
But Henderson did not feel a change of approach was necessary: 'If anything, I think we dominated the first half after that moment. Obviously we scored the goal through the penalty and had an other couple of good chances in the second half but we've got to be clinical – we've had three or four good chances on goal but only worked the 'keeper once or twice.'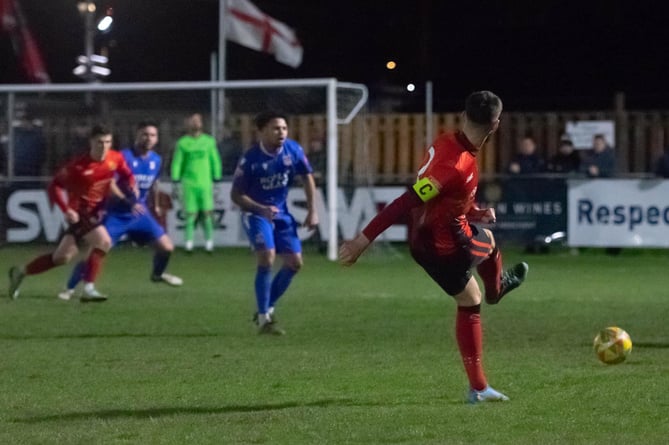 Tavistock captain Benjamin Cross plays a pass on the right flank as the Lambs look to pull one back.
(Chilly Pics Photography, via Facebook)
The Lambs recovered from their early set back and dominated possession as Manor Farm moved deeper. But, despite the pressure, the Bristolian rearguard held firm and repelled an onslaught in front of goal.
'We're a good passing team,' Henderson said, 'but what kind of hurts you sometimes is four or five giants at the back; you can't just put balls into the box, you have to find other ways to play around them and I just think sometimes we have to be a bit more cuter and clever.'
Talismanic striker Prynn restored parity seven minutes from the break when he thundered a penalty home into the bottom-right corner. Goalkeeper Benjamin John stood no chance.
Deep into first-half injury time, the Lambs came inches from taking the lead. Benjamin Fowles charged forward on a counterattack and opted to take the shot on instead of using the supporting cavalry alongside him. The effort took an evil deflection which wrong-footed John but he could breathe a sigh of relief as the ball trickled marginally wide of the post.
Henderson made his first personnel switch at half-time as sprightly forward Josh Grant replaced namesake Josh Parry. Grant was immediately involved as a spellbinding exchange with Alex Battle on the left flank saw him latch onto an impudent flick around the defence and lay the ball off for Prynn. The striker scuffed his effort wide.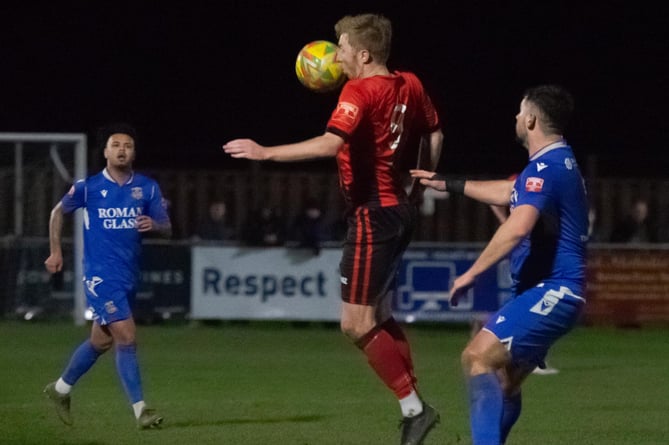 Goal-scorer Liam Prynn (centre) brings the ball under control.
(Chilly Pics Photography, via Facebook)
'It was just to really try to get him to link up the play and get Bats [Alex Battle] out wide,' said Henderson, explaining the thought behind the substitution. 'Both players were involved in two chances we had after half-time in the build-up play. If we had scored at 1-1, I think we would have gone on to win the game but it didn't happen.'
Before long, Manor Farm put their noses back in front. On his first start for the Farmers, Luco Ponsillo found Howe with a ball that bounced kindly for the striker to arrow a half-volley into the top corner at the far post from nearly 30 yards.
'We've had two chances before in the 18-yard box,' Henderson said, 'and we haven't hit the target and he just pops one in from 30 yards and it changes the game.'
Moments later, two became three as Grubb was the beneficiary of a mistake in midfield. The 18-year-old found himself through in a one-on-one and made no mistake in lifting a neat finish over onrushing gloves-man Josh Oak.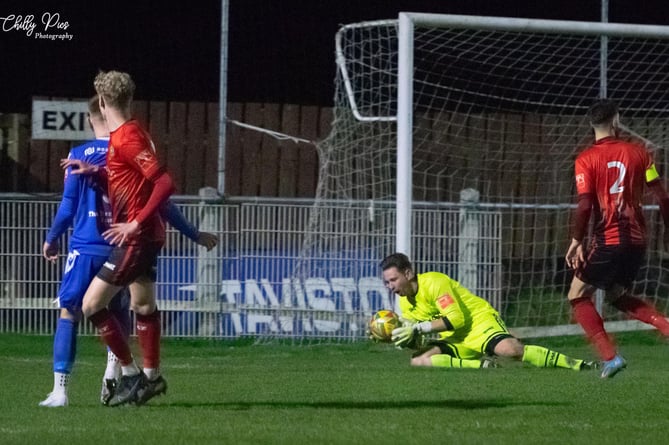 Tavistock 'keeper Josh Oak was not tested often on Wednesday.
(Chilly Pics Photography, via Facebook)
'We have to be better in both boxes,' Henderson explained. 'I felt we were quite dominant in midfield and we created the chances but [Manor Farm] have experience at this level and they sat in towards the end and we got quite desperate.
'We were gambling players and you're always liable when you're gambling more players forward and we were caught on the transition.'
Tavistock continued to plunder the visiting net but the Farmers put in a disciplined display to silence the Lambs.
'For Tavistock, to be at this level is obviously good and we've had some good results recently but that's football,' said Henderson. 'It's all about what goes on in either box and if you don't put your chances away and don't defend as well as you could do you make it difficult for yourself.'