Yelverton family aim to raise £30,000 to help give their little miracle Rebekah a safe haven
Monday 28th June 2021 3:45 pm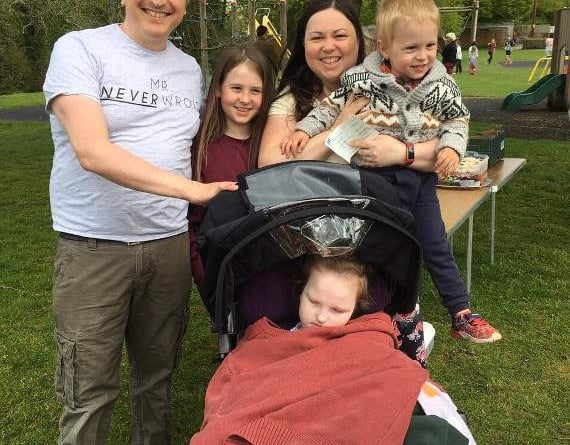 Subscribe newsletter
Subscribe to our email and get updates right in your inbox.
'Absolutely incredible' community support has been shown for a West Devon family desperately trying to raise thousands of pounds to transform their garden into a safe haven for their severely disabled daughter.
Yelverton couple Sarah and Jonathan Hunter adapted their home last year to be wheelchair accessible for their daughter Rebekah, 7, who was born with chromosonal disorders Cri du Chat and Trisomy 10 syndrome, but due to lack of funds and the covid pandemic, they have been unable to fulfil their desire to adapt their garden so they can have a safe space to make memories with all three of their children.
'Rebekah is our little miracle,' said Sarah. 'But with these syndromes come other complications like epilepsy, poor muscle tone and frequent boughts of pneumonia which are now life threatening to her. She's a fighter but each time she's ill she gets more and more tired.
'In January 2020 we finished a disability build to adapt our home for wheelchair access and sadly the garden didn't get finished due to covid and needing to stop everything in order to protect Rebekah as she is so vulnerable, we needed to shield her.
'In September 2020 my three year old son and I got a viral infection which Rebekah caught and she was rushed to hospital as it turned out she had a partially collapsed lung and double pneumonia again. This was a scary time as I'd been ill I was unable to accompany her, but thankfully my husband's work is really good so he could go with her into the high dependency unit. She took so long to get over it, it was a much slower recovery this time.'
Sarah said Rebekah was rushed into hospital again in November 2020 and 'narrowly missed' her having to be ventilated and transferred to an intensive care unit in Bristol.
'This was the scariest touch and go time in hospital. There were times we didn't know if she'd pull through. She's a fighter, but we realised that our time with her is so precious. We're so desperate to have a safe place that we can create amazing memories with her.
'As we now know a viral infection or cold can be so dangerous for her it's hard for us to go out in public. What we need is a garden so all three of our children have a safe place to play, a place we can all make memories that will last a lifetime and somewhere Rebekah can have her life enhanced by nature.'
Sarah said her other two children, 10-year-old Miriam and three-year-old Joseph, have been 'amazingly resilient' and help Rebekah where they can, but also support each other when the family is separated when Rebekah has to go to hospital.
'As a family we are hoping to have moments where we can have fun in the safety of our own back garden to laugh and have fun together.'
The family was quoted just over £20,000 to make their garden level, wheelchair friendly and to include a summer house and various sensory features, and after raising just over £7,000 of the total so far basic work was due to start this week but they were let down at the last minute.
The Hunters are now looking for a builder to carry out the work as well as still trying to raise the remainder of the funds.
Sarah said they were 'completely overwhelmed' by the number of people who had come forward to offer help.
The community in Horrabridge, where Miriam and Joseph go to school and nursery, has rallied around the family doing what they can to help raise funds after Sarah reached out to community group Horrabridge Love Your Neighbour for help.
The community group held a bake sale and a car boot sale and asked a village resident to use her love of walking to help Rebekah and her family by raising sponsorship as she walked.
Karen Rowe managed to raise over £1,200 by walking five laps of the village — around eight miles — everyday for seven days. This together with the sales and an anonymous donation of £1,000, the community group have managed to raise around £3,000 for the garden project.
Ali Mansfield, from Horrabridge Love Your Neighbour, said: 'Since we shared Rebekah's story, the community support has been absolutely incredible. Donations, help and kindness has offered the family much hope of their dream garden for their children.
'The community really got behind Karen, cheering and waving her on and the pub, bakery and hairdressers all got involved in fundraising. It was so lovely to see the village get together to get behind this family in need.'
Anyone who would like to help can email Sarah at [email protected] or visit gofund.me/c404557e
Comments
To leave a comment you need to create an account. |
All comments 0