West Devon Borough Council presses pauses on plan over 'call in' plea to Secretary of State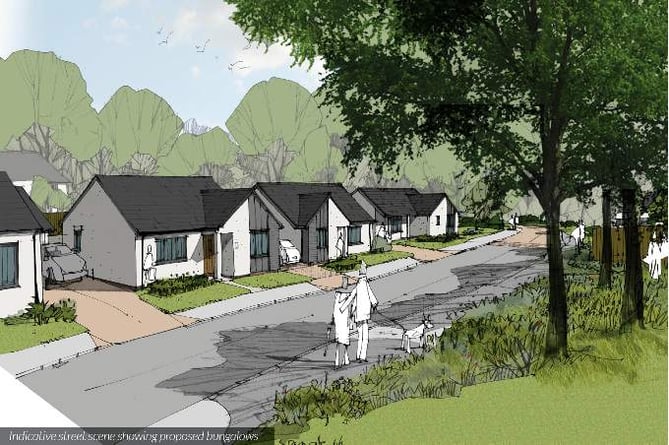 An artist's impression of the Baker Estate bungalows. Councillors have backed a controversial four storey extra care facility on site.
()
Subscribe newsletter
Subscribe to our email and get updates right in your inbox.
WEST Devon Borough Council has put the brakes on issuing approval for a controversial four-storey extra care facility in Tavistock after an appeal by an ex-town councillor to the Government to 'call in' the decision.
Former town councillor and planning consultant Graham Parker petitioned the Secretary of State for Levelling Up, Housing and Communities Michael Gove to 'call in' a plan by developer Baker Estates for an extra care unit with 60 flats as part of a development of 104 homes on Plymouth Road.
He has now received confirmation that WDBC are to put the brakes on issuing the planning approval, while the Secretary of State's office decides whether to ask a planning inspector to reconsider the decision.
Mr Parker has also urged Tavistock residents to 'stand up for Tavistock' to join him in petitioning the Secretary of State to reverse WDBC's approval for Baker Estates' development off Plymouth Road.
The council's development management committee gave planning permission in December for 44 bungalows and other homes and outline planning permission for an adjoining 'extra care' facility to contain 60 units.The committee passed the application after hearing that the 60 flats included within the extra care facility would be offered for rent to older people at affordable rents.
A council spokesperson this week said that 'the planning approval will be supported by a legally binding agreement (a 'Section 106 agreement') that will secure forever the extra care facility for people in need of care and affordable homes.
However, in an open letter to WDBC councillors on Monday, Mr Parker said that in his professional opinion in 50 years as a planning consultant this was not possible. At this stage, only outline permission, the principle of development, has been granted by WDBC.
'Affordable housing is only an 'expectation' not a requirement,' said Mr Parker. 'There is no requirement for people to have a local connection.'
He is also opposing the decision as going against the council's own Plymouth and South West Devon Local Plan in building the extra-care facility on land which had been allocated as employment land.
The application was approved despite a chorus of protests from Tavistock representatives and Tavistock town councillors, who said it would result in the loss of employment land, would not provide affordable housing and they also objected to a four-storey 'extra care facility' being built on the doorstep of a World Heritage Site.
Mr Parker, who has launched his campaign under the banner of 'Stand Up For Tavistock', said although the application had been approved, there was a window of opportunity in which to ask the Secretary of State to intervene.
'Being contrary to the Joint Local Plan, by law, the council should have advertised the application as a departure from the development plan. But they did not,' he said. 'According to the Planning Act 2004, the council's legal duty is to take decisions in accordance with the joint local plan unless there is a damn good reason not to.
He added: 'Effectively, the council, by failing to advertise the application as a departure, deprived people in Tavistock of the opportunity to petition the Secretary of State so it could be called in. I hope people will take the opportunity to stand up for their town by petitioning the Secretary of State.
He said residents had 'a narrow window' to petition the Secretary of State, quoting the application's number, 3652/20, via the Secretary of State's Planning Casework Unit at [email protected]
A spokesperson for WDBC defended a 'finely balanced' decision. 'Decisions made at development management committee are made in a public forum where all of the information is readily available for councillors to make an informed decision,' said the spokesperson.
'These decisions are made with advice from experienced senior officers. Often they require finely balanced judgments to be made within a complex legal and factual background.
'Members of the public can find all of the details of the Baker Estates application for the housing and extra care facility and also watch the debate on the council's website.'
After the December meeting leader of the borough council Cllr Neil Jory said: 'I know that the decisions our planning committee had to make were incredibly tough, but I believe that our committee arrived at the right outcome on a difficult site.
'I am pleased to see that overall the whole development that was approved will provide a good mix of housing, ranging from one bedroom self-contained flats, to five-bedroom detached houses.
'The application will provide 104 homes, 60 of which will be affordable socially rented, that equates to 58 per cent affordable homes in total.'
Comments
To leave a comment you need to create an account. |
All comments 0