Construction work begins on new community centre in Lifton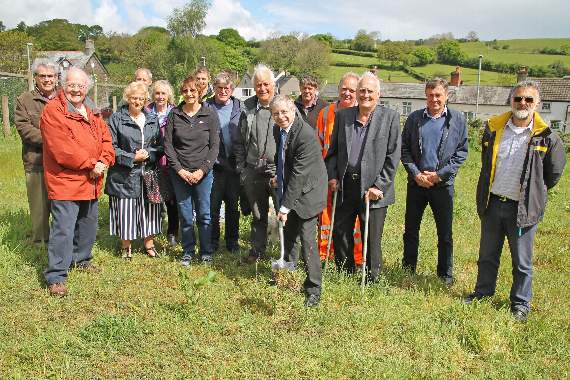 Subscribe newsletter
Subscribe to our email and get updates right in your inbox.
CONSTRUCTION work began on Lifton's newest community centre last week, marked with a ground-breaking ceremony.
After more than 20 years of fundraising, a group of trustees from Lifton were able to start planning the project last year upon securing a grant of £565,000 from the Big Lottery Reaching Small Communities Fund.
The centre, to be build on a three quarters of an acre site, is hoped to be finished by February 2017. It will be a two storey building with a main hall suitable for sporting events.
Meeting rooms and offices will provide space for local organisations and outside will be a multi-purpose car park, which can hold 30-40 cars and outside events.
Planning began in 1994 when Lifton Parish Appraisal Group identified a need for a community centre in the village; by 1995 a board of trustees were formed and the project was granted charitable status.
The original plan was to refurbish the church hall but further research discovered that grants could only be obtained if the land was owned by the applicants.
In 1998, the group found a site on which the community centre could be built, which, in its central location opposite the Arundell Arms pub, was considered a prime location. However, the group faced a myriad of issues in securing the land, which meant it did not obtain ownership until 2006.
Martin Hall trustee and member of Lifton Parish Council said: 'We put the planning application in a while ago but had to have it renewed around 18 months ago. I became involved in 2008 as a representative for the parish council and after six months they asked me to become a trustee but the project has been going on since 1994.
'We have always been hopeful but it is a slow process – it is a bit like walking you just have to concentrate on the next step and don't look at where you are going. A lot of people in the village didn't believe they would see the community centre built in their lifetime and I understand that, because it has taken a while. We have been working for a long time but it was nothing apparent to outsiders.
'We are currently having the embankment dug out because the building will be at street level so a lot of people have woken up to the fact that something is happening.'
In 2009, the total funds raised for the community centre were £20,000, meaning the team was able to appoint architect Steve Whettem from Tavistock. Trustees chairman Tony Phillips said that Steve's help and knowledge had been 'invaluable'.
Three plans were drawn up and presented to the public to pick the most popular option. The final plan was completed and planning permission was granted in 2012. In 2013, the site was used to host car boot sales in an attempt to raise money for the project.
The board also applied for the first phase of the Big Lottery Reaching Communities Fund – in which they were successful and applied for the second phase.
Later in 2014, the team was once again successful and applied for the final stage. To enable the final application, the big lottery provided a grant of £20,000.
Martin added: 'It is a team effort – I can't pick out any one person. Chairman Tony Phillips has worked really hard since coming on board. Mandy Kenyon is a real gem and she did a lot of the work when we were applying for the National Lottery grant for the build. Vin Marshall has also raised loads of money through sponsorship – she has run marathons and also done a lot of secretarial work. A lot of other locals also hang around and help or talk to us about what is happening. We are expecting to be laying bricks within the next month and once that has begun we are looking at around 32 weeks to complete – hopefully by February next year, 2017.'
Martin said the build will be completed in two phases. The group has everything required for the first phase but need to raise more money for phase two. He said: 'We hope to raise money in grants and sponsorship – we also hope people in the village will dig deep. From the aerial view the building will be in the shape of the letter 'H' and on the left hand side, there will be a hall where sports can be played like badminton, a coffee hall and obviously toilets – upstairs there will be offices and a meeting room.
'Then we will have a bridge which connects the building to the second part which is phase two. There will be more offices, meeting rooms and a play area. We obviously would say thanks to all the villagers for the support and the parish council as they have never acted like the project was out of reach.'
Comments
To leave a comment you need to create an account. |
All comments 0