Concerns raised over safety of Tavistock's Pimple following more damage to landmark
Thursday 12th July 2018 6:00 am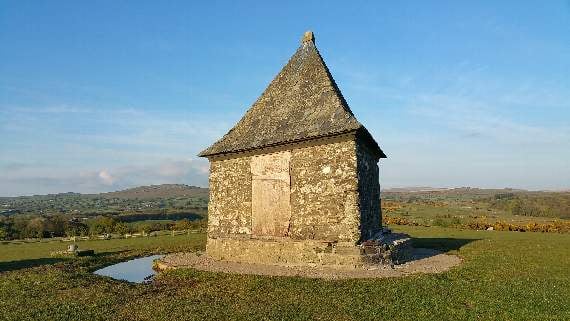 Subscribe newsletter
Subscribe to our email and get updates right in your inbox.
CONCERN has been raised about the 'far too dangerous' state of a listed Tavistock landmark after recent damage has allowed the possibility of young children or dogs harming themselves by getting inside.
Tavistock resident Donna Baker, who regularly walks her dogs near The Pimple on Whitchurch Down, has expressed her worries about the state of the small building, claiming that is now in a dangerous condition and 'inevitable' that an inquisitive child or animal will get harmed.
'The flimsy plywood covering the opening has been torn away, leaving room for a child or a dog to enter. The wood itself is jagged and could cause injury and the interior is strewn with rubbish,' Donna said. 'This is now in a dangerous condition and although the building is, regrettably, in private ownership, it is standing on land with free public access. I walk my dogs there daily and I am all too aware that an inquisitive dog could now enter and damage itself on whatever is inside. So too could a small child. It is almost inevitable that this will happen in the next few days, now that it is in such a condition. Just chalking "keep out" on the bit of remaining plywood is not going to stop children and dogs exploring.
'It is far too dangerous as it is. But it is also very sad to see this landmark and significant building being allowed to deteriorate. It can be seen for miles around and is unique.'
The Pimple is a Grade 2 Listed building, constructed in 1914 to house the doorway to a reservoir, designed by one of the country's leading architects at the time, Sir Edwin Lutyens. In the early 1990s a new source of water was piped across Whitchurch Down, making the reservoir redundant. The building's listing meant that it could not be demolished but South West Water sold the building to a private, anonymous buyer. It has since been sold again, to another anonymous buyer.
With the owners not seemingly contactable, Ms Baker questioned whether the town council or borough council had any authority to repair or at least make the building safe.
A spokesperson for Tavistock Town Council said: 'The condition of The Pimple, a building in private ownership on Whitchurch Down, is concerning. Whilst the town council has no legal authority to act in circumstances such as this, the local planning authority (West Devon Borough Council), has statutory powers to take enforcement action against the owners of listed buildings who fail to maintain them to an acceptable standard. It also has separate responsibilities in relation to certain categories of dangerous structures.'
West Devon Borough Council (WDBC) said it was aware of the damage to The Pimple.
A spokesperson for WDBC said: 'Like many people in Tavistock, we are concerned about the deterioration of The Pimple due to neglect and occasional acts of vandalism. Tavistock Town Council has been closely involved and removed the benches when they became unsafe.
'From a health and safety perspective, an officer from West Devon Borough Council will be visiting the site to determine if there is evidence that the building is open and has the potential to become the site of crime, disorder or anti-social behaviour.
'If the property is open to access and poses a risk to public safety, a notice will be served on the owner which will require them to carry out works to make the property safe. If they fail to do so, the council does have the power to board up the opening to make the building safe and can charge these costs back to the owners.'
Comments
To leave a comment you need to create an account. |
All comments 0