Tavistock Chamber of Commerce chooses new chairman for 2018
Thursday 8th February 2018 3:00 pm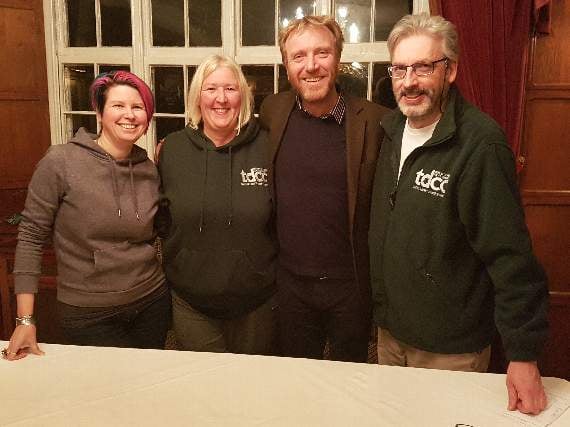 Subscribe newsletter
Subscribe to our email and get updates right in your inbox.
TAVISTOCK and District Chamber of Commerce has chosen a new chairman to steer the ship through 2018.
Tim Randell, a director of Olijam Communications, said it was an honour to take over the post from financial advisor Mike Harper, who has stepped down after a successful year in the hot seat.
Tim said: 'As chairman I want to help the team deliver a results-driven agenda. I want to set objectives that are achievable and measurable. In summary these are the four points I want to focus on:
'Number one, Tavistock Business Improvement District: I want to continue the campaign started by ex-chairman Mike Harper, of ensuring the BID is making best use of the monies raised from local businesses in the town and that those funds and resources are properly directed to promoting and improving our town.
'Number two, communications; with my background in publishing and marketing this is a chance for me to pass on some particular skills to other small business owners in this area and improve the way the Chamber is promoted and perceived.
'Number three, dressing the town; the centre of Tavistock is having a rough patch, with many empty shops that have been left looking in such a terrible state as to be a visual drag on the whole town.
'My personal campaign for the year will be to find a way to bring together landlords, the town council, BID, West Devon Borough Council, the press and local businesses in a joint project to dress the windows of each of these empty premises.
'Number four, membership; by improving the Chamber's communications strategy I want to encourage local businesses and charities to join the chamber and get involved. There are many benefits that come with being a member and we need to reach out and broadcast these more effectively.
'The Tavistock Chamber of Commerce Business Show is coming up in May and our regular breakfast networking meetings have grown and become a great opportunity to win new business and meet fellow business owners. The next breakfast meeting takes place on the 15th February at The Bedford Hotel and I look forward to meeting members and guests for the first time as their chairman.'
The rest of the committee remains as it was, with IT services specialist Richard Cosgrave remaining as secretary, Clair Wellsbury-Nye as social media secretary and Annette Baskerville-Smith remaining as both treasurer and lobbying secretary.
Outgoing chairman Mike Harper said: 'This year has been a year all about building bridges and relationships; we have now built the most transparent and effective tripartite coalition between the Chamber, Tavistock BID [Business Improvement District] and Tavistock Town Council that I think I have ever seen since I've been involved.
'All three organisations are not only determined to deliver on their individual goals and aspirations but now see and actively use the benefit of working together.
'The coming years are going to be very interesting and vitally important for the viability of Tavistock. What we do now will have far reaching consequences both intended and unintended.
'I hand over to my successor in the knowledge that there is a fantastic team at the chamber who have all worked extremely hard to get us where we are now and will continue working extremely hard to keep us moving forward.'
The committee was hopeful of driving up both membership numbers and member-ship engage-ment in the chamber's activities.
Richard Cosgrave, chamber secretary, said: 'The committee currently do everything. It is time for that standard appeal to our members — please get involved, suggest ideas, do things with us. The chamber is not just about the committee. Don't wait for us to do things!
• Pictured is The Tavistock and District Chamber of Commerce committee — social media secretary Clair Wellsbury-Nye, treasurer and lobbying secretary Annette Baskerville-Smith, new chairman Tim Randle and secretary Richard Cosgrove.
Comments
To leave a comment you need to create an account. |
All comments 0