Nurturing home grown talent in the workplace with apprenticeships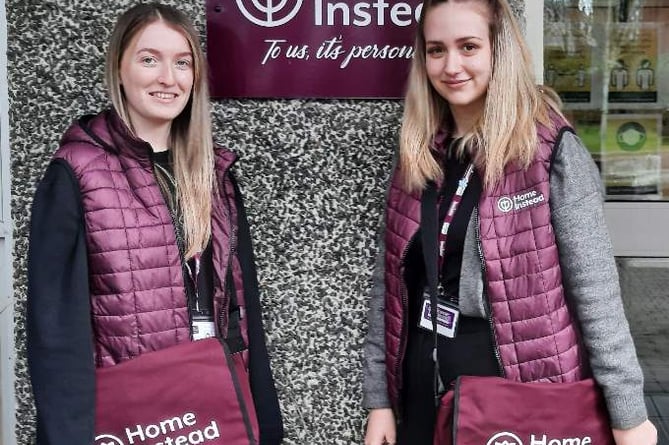 Polly and Amber from Home Instead
Subscribe newsletter
Subscribe to our email and get updates right in your inbox.
APPRENTICESHIPS are a critical part of a plan by the Government to deliver new employment opportunities post pandemic but apprenticeships have changed drastically over the years — they are no longer just for the under 25s. In National Apprenticeships Week we talk to some of the companies and apprentices who are great advocates of the scheme where you can earn money, gain work experience and work towards nationally recognised qualifications.
Manager of Quinns hairdressers in Okehampton Dawn Pitts has been taking on apprentices for 30 years and her first one is still with her.
'I would say that 95 per cent of my employees are home grown,' she said. 'I have three apprentices at the moment. They are great and the advantage of having apprentices, in my experience, is that they are loyal and you get longevity. They become part of the team and they learn from the team and fortunately for me they have wanted to stay as part of the team.
'There are so many apprenticeships now and lots of financial incentives from the Government but it is something we have always done because we get employees who are specifically tailored to our business.
'I am a great fan of apprenticeships and we have a good relationship with Exeter College too which is where our trainees go to study.'
Cameron Robison is a civil engineering apprentice based in Devon County Council's Okehampton Neighbourhood Team.
The council offers apprenticeships in business and administration, civil engineering, town planning and transport planning. As part of his apprenticeship, Cameron is training to become a neighbourhood officer; the role includes dealing with enquiries regarding the highway.
Cameron looks at enquiries that come in either from the public or from district, parish or county councillors and then if there is a problem he will create orders for the works to be done.
'I spend time preparing Temporary Traffic Regulation Orders (TTRO's), this is the process for road closures. This could be from Devon Highways roadworks or for special events such as festivals, carnivals or parades.' he said.
Cameron has been working for the council for about ten months and is hoping to secure a permanent role with the authority. He heard about his apprenticeship through his mother, who works at County Hall.
'I was having what was supposed to be a gap year and was working in a restaurant in Exeter,' he said. 'When I found out about this apprenticeship I decided that it would be a better choice for me than going to university.'
Home Instead, a care organisation that covers Tavistock and the Tamar Valley employing between 70 and 80 people, currently has three apprentices on its books.
Polly Moule is studying a higher apprenticeship in lead adult care level 4. She said: 'I am really pleased to have this opportunity to work at Home Instead Tavistock & Tamar Valley, I am earning a wage, hands on experiences, and will gain a qualification which will help me to progress with my career in health and social care.'
Amber Rawlinson is undertaking an apprenticeship customer service practitioner level 2 and Lea Petherbridge is just about to finish apprenticeship adult care level 3.
Recruitment manager Clare Northey said: 'Polly was a caregiver before and we are helping her to further her career and for Amber working in an office is something completely new.
'With apprenticeships we can teach people how to do the job and the unique ways in which we work, while they complete their qualifications. We feel we are equipping them to have really good careers.'
Gemma Grice took on an apprenticeship in her 30s and says it has been a huge benefit to her career. She was one of the first cohort of the Plymouth University professional management practice degree apprentices and is now associate compliance and operations director at chartered financial planners Hansford Bell in Tavistock.
Gemma said she decided against university at 18: 'I didn't want to go to university, I wanted to build my career earlier.' she said. 'I started in financial services as a PA and was looking to develop my skills within strategic business management. I wanted to be able to do this in a way that allowed me to utilise these skills in the workplace, putting newly-acquired knowledge into practice.
'Completing the degree apprenticeship was a new experience in balancing a career with academic studies. There was a lot to do in two and a half years but it was worth it.
'While I have increased my skills which has allowed me to take on additional roles within the business, the biggest benefit has been to my confidence. By having a better understanding of strategic management by being able to practically apply it at Hansford Bell, I have been able to acknowledge and appreciate the skills I have and the value they bring.'
Tindle Newspapers, of which the Tavistock, Okehampton and Tamar Valley Times is part, has taken on its first ever apprentice journalists after receiving 200 applications for the positions in Wales and the South West.
Liam Davies, who works at the Tavistock office said: 'I wanted to join the apprenticeship programme with Tindle because, simply, it strikes me as a fantastic and invaluable opportunity.
'I felt automatically drawn to Tindle's ultra-local journalism ethos; I believe passionately in engaging with the local community to tell the story.'
The company says the move is 'part of a fresh focus on employing journalists in the heart of communities'.
Scott Wood, Tindle managing director, said: 'We are delighted to welcome our five new apprentice journalists to Tindle Newspapers.
'We truly believe in local and, through enabling our new apprentices to join our group of businesses, we can continue to serve our local communities, remain at the heart of them and develop the next array of talented individuals into journalists of the future.'
Devon and Cornwall police has nearly 160 apprentices working in the command centres.
A further 48 are currently enrolled and recruitment is underway for the next phase of apprenticeship opportunities.
Chief Superintendent Ian Drummond-Smith said: 'Apprenticeships have changed hugely over the last few years and they're no longer just for the under 25s – we've had apprentices from 20 to 60 years old.
'This greater diversity has brought great benefits to the team and the service that we provide to our communities.'
Meanwhile, the UK's biggest bus company, Stagecoach, currently has 1,000 apprentices being trained on a variety of roles, from driving and engineering to HR and learning and development apprentice qualifications, which is the most the group has had at any one time, beating last year's figure of 800.
And at Stagecoach, the team of apprentices are from a range of diverse backgrounds and a mix of ages. Ralph Turtle, a 65-year-old driver at Worthing, completed his apprenticeship in 2021 having previously been a Flybe Pilot who was keen to continue his career in the transport industry.
Martin Griffiths, Stagecoach chief executive said: Apprenticeships bring huge value to our business in terms of talent and diversity.
'As well as ensuring that our workforce represents the communities we serve, apprenticeships provide opportunities for internal development and succession planning.
'We have been at the forefront of championing apprentices in our workforce for many years and it is great that we now have over 1000 apprentices across our companies in England, Scotland and Wales.'
Comments
To leave a comment you need to create an account. |
All comments 0