Okehampton runners take on coast to coast running challenge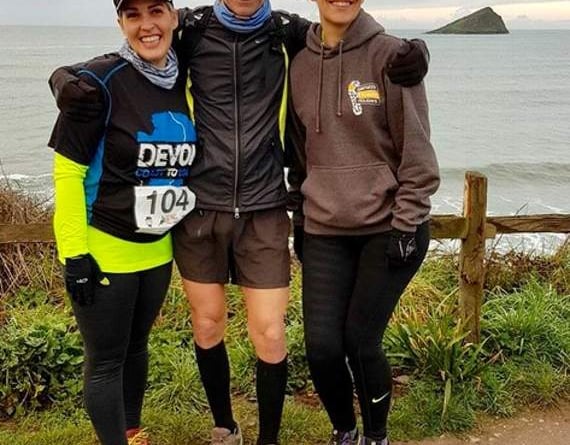 Ali Holliday, Roger Voaden and Jo Turner
()
Subscribe newsletter
Subscribe to our email and get updates right in your inbox.
THE Easter long weekend saw the culmination of months of training for three Okehampton Running Club members when they took on the Devon Coast to Coast Ultra Marathon.
This is a 117 mile crossing of the county from south to north, following the Two Moors Way and run over four consecutive days, although there is an option to complete it non-stop in under 48 hours. All three ORCs – Roger Voaden, Jo Turner and Ali Holliday – took on the four day race, going home after completing each day's section.
The weather was not kind to them making this huge challenge even more difficult and the conditions underfoot appalling.
Day one saw them set off from Wembury on the south coast, and follow the Erme Valley Trail initially with a mix of gentle trails, woods and tarmac to Ivybridge where the Two Moors Way starts and then continue on to Holne where day one finished. The rain did hold off for this day at least and all three made good time, with Roger Voaden finishing joint first with a German runner in a very good time of 4 hours 55 minutes for 29 miles.
Day two, the Dartmoor section, was much worse however, with a bitterly cold wind and rain so that by the time Jo and Ali made the checkpoint at Bennett's Cross they were so cold and soaked there was some question of them continuing. However a change of clothes saw them push on and thankfully the rain did stop, but when they eventually finished at Hittisleigh, Ali was beginning to be troubled by a painful knee. Roger had finished ahead of all the other runners in 5hrs 5mins having covered the 25 brutal miles in shorts!
Despite some desperate physio and icing of the painful knee, after just three miles of day three Ali was in pain again. She was determined to finish however and carried on, but after 15 miles she could not bend her knee and her ankle had also become painful, so she reluctantly had to retire.
This section through Mid Devon was demoralising with field after field of mud to trudge through without respite, but once again Roger came in joint first in 5hrs 30mins.
The final day was perhaps the toughest with so many miles in their legs and the expanse of Exmoor to cross to get to the finish at Lynmouth. After another night of heavy rain most of the paths were like streams or were muddy and slippery and fields had standing water on. Jo was now running with another lady and although tired was going well. Roger too was running with someone new.
As they ran along the seafront at Lynmouth, Roger allowed this runner to go ahead of him by a few paces, letting him officially finish first for that day he'd told Roger he had never won a race. Having won all the previous legs though Roger was the undisputed overall winner of the whole race - a great achievement for someone used to running all his marathons on tarmac. He finished the final leg in 5.29 making his cumulative time for the entire race 20hrs 59mins, an incredible time especially given the conditions.
The race officially finishes when the runners shake the hand of the 'Wire Man' on the seafront and still smiling, but very tired Jo shook his hand after 8hrs 16secs happy to have completed but promising herself she would never run a multi-day event again!
Comments
To leave a comment you need to create an account. |
All comments 0