Proposal to turn Horrabridge's Leaping Salmon pub into Co-operative store meets opposition in village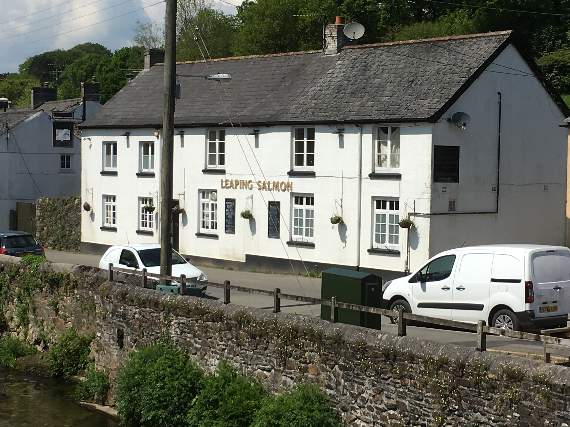 Subscribe newsletter
Subscribe to our email and get updates right in your inbox.
A PROPOSAL to turn a once thriving village pub into a Co-operative food store has met opposition from residents in Horrabridge who claim the village cannot sustain it.
But the owner of the Leaping Salmon, which closed in November, said the use would secure the property's future.
A petition to stop the development in the village has already collected over 460 signatures.
Heading the 'Stop the Co-op' campaign are Tony and Denise Hopkins who have owned Horrabridge Stores for ten years — the only convenience store currently in the village.
Denise said: 'We have been looking at the whole picture regarding the Co-op coming into the village. One of the main issues is the traffic congestion – Geoffrey Cox came to visit last Friday and as he was leaving there was great congestion over the bridge.
'The village isn't big enough to look after such a large shop – in order to make money they will have to get in customers from outside the village. There are congestion and parking issues and even though there is a car park there isn't enough room for cars to move around it.
'We just can't see how it is going to be profitable! We are ticking along, we don't make a lot of money so I don't know how it would be viable for them. We have been here for 10 years and we also have a post office in our shop which we took on nearly three years ago. We don't know what the Co-op is going to offer that we don't already offer.'
Mrs Hopkins has a Facebook page running and many comments have also been posted on the Horrabridge Noticeboard Facebook page. She said she was really pleased by the local support.
'We just don't understand it – there is a Co-op in Tavistock and one in Yelverton — why do they need one here in the middle?
'No-one wants a plastic fronted shop in this historic village – the land is in a conservation area anyway so I don't know how it would even work.'
Chairman of Horrabridge Parish Council Eric Hemsil said he was first informed about the plans by former West Devon Borough Council Mayor David Cloke.
Eric said: 'I have a neutral view on the plans. As far as I know the Co-op is looking to take over the lease. The Co-op is currently going through a PR company.'
He said he and David Cloke had agreed to hold a public meeting on June 14 but this had now been cancelled.
'If the Co-op was to go ahead with the application it would have to apply for change of use for the pub,' he said.
Owner of the Leaping Salmon Enterprise Inns said: 'Unfortunately trade at our venue, The Leaping Salmon, Horrabridge has fallen to such an extent in recent years that we do not believe it can continue to trade successfully as a licensed premises.
'After careful consideration of options, we decided to explore alternative uses for the property and have agreed a lease for the site with the Co-op which wil
l secure the property's future and see it continue as a local community asset.'
A spokesperson for the Co-op said: 'It is our belief that a new store would greatly improve the shopping options for Horrabridge residents, providing — for example — a wide selection of fresh and chilled products and in-store bakery, all within walking distance.
'A new store will also create a number of new full and part time jobs, which will be targeted at local residents and offer a variety of skills and training programmes.
'Residents will be able to have their say via leaflets we will be posting shortly and through the planning application process.'
On the Horrabridge Noticeboard Facebook page one resident said: 'The "knee jerk" reaction at the moment is to "stop the Co-op" but have we all thought this through?
'What are the options? Lose another business and its associated trade totally? The land area is quite large and it could be cleared to build flats — how many could be "squeezed" onto that area along with all the associated parking problems? Just look at the Horrabridge Memories page to see how many businesses the village has already lost.'
Comments
To leave a comment you need to create an account. |
All comments 0