Pharmacy in turmoil as staff shortages continue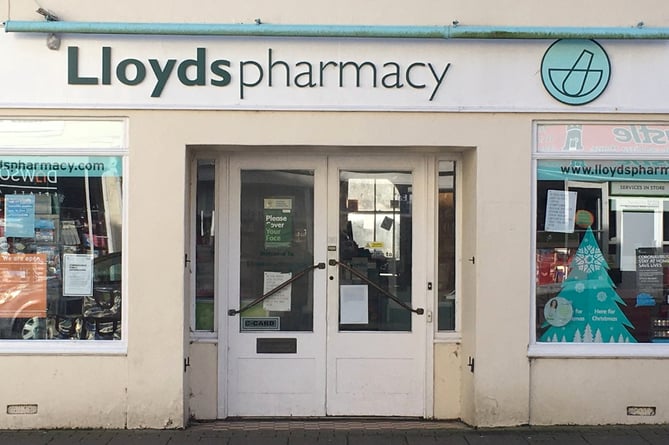 Lloyds pharmacy Callington is being forced to close on some days and change opening hours at the last minute due to ongoing staff shortages
(TINDLE )
Subscribe newsletter
Subscribe to our email and get updates right in your inbox.
CALLINGTON councillors are pleading for their MP and the NHS to intervene as staff shortages at the town's only pharmacy reach new heights.
Customers are finding that Lloyds pharmacy is shutting at short notice during the day and sometimes not even open at all.
At last week's meeting of Callington Town Council meeting, Cllr Mike Moore described the situation as a 'disaster area.'
He said: 'As a town council we have a duty of care to our residents and we need to explore alternatives.'
Councillors heard that the store was repeatedly closing at short notice during the day and this led to online announcements every morning informing residents if the pharmacy would open that day.
Additionally, the pharmacy did not have any disabled access nor could accommodate sufficiently for those with mobility issues.
'It's a disaster area,' said Cllr Moore.
Cllr Moore said the council had previously spoken with the regional manager at Lloyds Pharmacy who has said there was a shortage of pharmacists in the area but the councillor now understood it might be a problem specific to Lloyds itself.
Lloyds' head office claimed that they had received no complaints, he said.
Town and Cornwall councillor for Callington Andrew Long, said: 'The problem is that Lloyds are part of a chain and their pharmacists are being pulled in so many different directions between branches in the region, often at very short notice which means these exceptional, long-term circumstances won't just be unique to Callington — it's part of a wider, circular problem.
'People need access to their prescriptions and medication.
'There has also been the added trouble of staff being off and isolating with covid which exacerbates the shortage issue. This is not the fault of the staff in the shop, they're doing their very best and pharmacy users shouldn't take out their frustrations on them.
'Unfortunately, there won't be an overnight solution or an immediate resolution. We now need national intervention so it's important to pile the pressure on Lloyds.'
A letter to MP for South East Cornwall Sheryll Murray is in the process of being drafted by Callington town clerk Jo Taylor, which will outline the continuing problems.
Ms Murray said: 'I was previously contacted contacted about the Callington pharmacy problems by a constituent in October last year who expressed their concerns about the length of the queue to be served and the lack of disabled access.
'I contacted Lloyds Pharmacy and they replied in November saying they were able to reassure me issues were working to be resolved and that a new, portable disabled ramp had been ordered for the store. The retail area also underwent refurbishment in 2011.
'As soon as I am contacted by the town council in Callington I will go back to Lloyds immediately and raise these concerns. I'm a Member of Parliament though and they're a private business, unfortunately I can't magic pharmacists.
'I'm surprised local GPs have not spoken about these problems.'
The town council have also agreed to start communicating directly with the NHS on this matter, requesting that it takes urgent action.
Members will also raise the discrepencies between what is happening in Callington and what Lloyds is telling them.
Town councillors are also urging those in the local area who use the pharmacy to contact Lloyds directly with any complaints they have to place further pressure on the company.
Comments
To leave a comment you need to create an account. |
All comments 0