Okehampton rail news welcomed across the region
Wednesday 7th February 2018 3:00 pm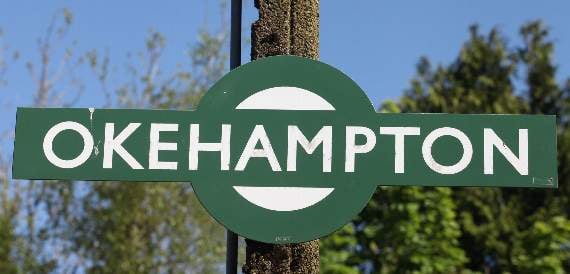 Subscribe newsletter
Subscribe to our email and get updates right in your inbox.
THE news that the Government is creating a plan to bring an all-week, all year train service to Okehampton has been welcomed by MPs — including those for Okehampton and Tavistock — and county councillors from across the area.
In a letter circulated to South West MPs, the secretary of state for transport, the Rt Hon Chris Grayling MP, confirmed that the Government has instructed Great Western Railway (GWR) 'to prepare plans to introduce regular train services to Okehampton, with the objective of securing a credible and costed plan for delivering an all-week, all-year train service between Exeter and Okehampton as soon as reasonably practicable'.
Mr Cox, MP for Torridge and West Devon, said: 'In the last two months, I have met twice with the transport secretary, urging him to prioritise the improvement of rail links to the South West.
'He has now made a series of commitments to improve and bolster South West rail links; the most significant for my constituency is the re-instatement of the Okehampton – Exeter service.
'I am pleased that the transport secretary has committed to introducing regular trains services to Okehampton "as soon as reasonably practicable".
'I will be monitoring these developments with a keen eye to ensure that the department's commitments come into fruition and my constituents are once again served by the capacity lost under the Beeching cuts.
'I also welcome his reiteration that the vulnerable Dawlish main line was his number one priority.
'With these developments afoot I hope that my constituents and local businesses start to feel the benefits of infrastructure spending which will greatly improve our regional economic fortunes through much better links with other parts of the country.'
Mel Stride, MP for Okehampton's constituency Central Devon, said: 'A regular passenger rail service between Okehampton and Exeter via Crediton will provide a valuable service to thousands of my constituents and help reduce traffic in and out of Exeter.
'Momentum towards securing this service has steadily grown and the announcement is significant as it demonstrates the full weight of the Department for Transport is behind the plan and wants to see it happen as soon as possible.
'It is now over to Great Western Railway to come up with a fully costed plan to deliver the service and I will liaise with them to make sure this is delivered.'
Okehampton town mayor Cllr Jan Goffey said: 'I'm absolutely delighted that Chris Grayling has highlighted our railway in his latest letter. "As soon as reasonably practicable" does give wriggle room though, so we do need to — nicely — keep the pressure on the other parties involved.'
Devon county councillor for Okehampton Rural, Kevin Ball, said: 'Such a clear commitment from the Government is fantastic news.
'Everyone who has been involved with the campaign including OkeRail, Mel Stride and Devon County Council should be really proud and pleased with this substantial progress.'
The news that Okehampton is likely to get a fully reinstated rail service has been welcomed across the wider area. Communities such as Bude and Holsworthy have had involvement with the OkeRail campaign to get the line reinstated, so that swathes of North Cornwall and North Devon have much better connectivity to the nation's rail network.
Devon County Council cabinet member Cllr Barry Parsons, who represents Holsworthy Rural, said: 'I'm thrilled to see the interest being taken by the secretary of state, not only in taking time to visit but in following up on his clear interest in transport issues in the South West.
'Local residents often tell me they feel rural areas lose out on issues like transport, compared to larger, urban centres.
'It is therefore a wonderful breath of fresh air to read Mr Grayling's commitments regarding Okehampton, which is within reach for residents here, and Dawlish.
'Torridge as a district contains some significant pockets of deprivation. It would be great to start a conversation about connecting Devon and Cornwall via Okehampton initially, and then perhaps onto Bude through Holsworthy.'
Cllr Andrew Saywell, county councillor for Torrington Rural, said: 'I'm delighted the transport secretary has confirmed plans to reintroduce regular rail services between Okehampton and Exeter.
'This will provide an important extra transport link for people and businesses in Torridge, West Devon and beyond, helping to boost the local economy, create jobs and open up new opportunities for tourism.
'With rail services coming back to West Devon, I hope we can now look at long-term proposals to restore rail services in Torridge.
'This will not only boost the local economy but ultimately improve the connectivity of one of the most isolated areas of rural Devon.
'Mr Grayling's letter also provides other reassurances which confirm the government's commitment to enhancing rail services in Devon and Cornwall.
'These include much-needed improvements at Dawlish and Cowley Bridge, track upgrades elsewhere and new high-speed trains with greater capacity from this summer, as well as a promise to publish a regional transport strategy before the end of February.'
Comments
To leave a comment you need to create an account. |
All comments 0