Hundreds of volunteers join the support network in Okehampton area
Thursday 26th March 2020 8:30 am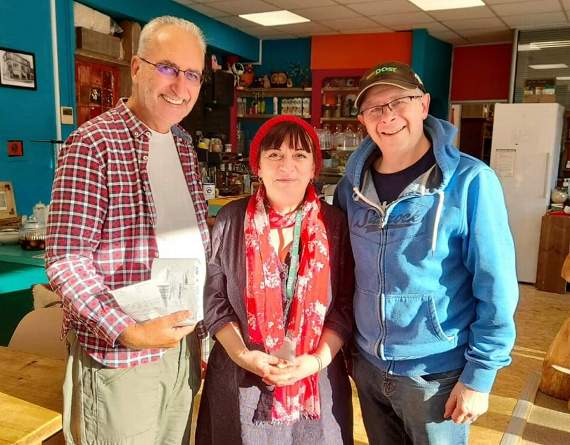 Members of the Okehampton Covid 19 support group
()
Subscribe newsletter
Subscribe to our email and get updates right in your inbox.
AS the country adjusts to the new 'lockdown' regime, community spirit has continued to rise in Okehampton with volunteers coming forward in their hundreds to help those in self-isolation or in the vulnerable category.
As the news broke on Monday evening that people were being forced to stay at home — except for shopping for essential food and medicine, medical appointments, a once-a-day outing for exercise and those key workers travelling to and from work — Okehampton mayor Cllr Julie Yelland praised the efforts of the Okehampton people coming together for others at a difficult time.
'We are living in unprecedented times and we continue to see enormous and dramatic changes in every area of our daily lives in a remarkably short space of time,' she said.
She asked people to connect with loved ones daily, put notes with contact details through the doors of neighbours and offer a listening ear.
'Okehampton has always been a place with a vibrant community and there is absolutely no reason for that to change — we just do "community" differently for a while. Let's be kind to one another and think well of one another. We are all in this together.'
In response to the Prime Minister's dramatic announcement, Central Devon MP Mel Stride said: 'The strictness of the measures announced outline the seriousness of the situation we are in as a country and the importance of stopping the spread of coronavirus. These unprecedented steps will help save lives and are a necessity.'
In the community, a group set up only last week to help provide support of all kinds to the vulnerable or those in need — the Okehampton coronavirus — covid 19 support group — has been inundated with people coming forward to volunteer their help and services.
Group member Brian Wood said: 'Since the cafés closed a number have given their excess food to us which we turned in to soup and veg boxes which we have been distributing to vulnerable people in the community — young and old. We have been picking up and dropping off prescriptions, helping to do security at the pharmacies and helping shops with deliveries.
'Various people have offered lots of things such as games, DVDs, books to distribute and an office which was closing down gave us its stationery.
'It's got a really good feel about it and we're working well together. Lots of people have been volunteering and it has been a manic few days trying to match volunteers to people in need. We're just trying to help as many people as we can.
'It has brought the best out of the people in the town and the surrounding areas.'
Fellow member Rebecca Green praised the hard work of the team over the past week: 'The group has been doing so much — the core team has worked so hard. From dropping everything to help and constant phone calls, delivering, collating volunteers in accordance with GDPR, liaising with schools, pharmacists, shops, public volunteers and those in need of help and ensuring social distancing is kept.
'Nothing can say how cool these guys are. Everyone has been amazing.'
The group was keen to draw attention to people letting neighbours know if they can help in their area so that they could prioritise those with no one local to them that can help. The group is covering the wider area, not just in Okehampton but the surrounding villages and hamlets as well.
Rebecca said over 400 volunteers had come forward to help between Facebook and offline but not all of them had been used as yet.
'We are following government guidance and the great thing is that those in isolation are helping too with manning the Okehampton Isolators Group and supporting a phone buddy system.'
Anyone who wants to contact the group for help can do so by calling 07707 565612 or searching 'Okehampton coronavirus - Covid 19 Support Page' on Facebook.
Okehampton Foodbank organisers have said they have been 'overwhelmed' with the generosity of local people in such a worrying time and are urging people to continue giving generously as the need for its use has already doubled and is expected to continue to rise in the coming weeks.
Okehampton Foodbank chairman Paul Jarrett said: 'Words fail in so many ways. How can you even begin to describe what has been taking place in our nation and across the world? It is easy to focus on the news and all the coronavirus restrictions of self-isolating and social distancing, but the fact is that behind the scenes we have been stunned by the generosity of so many people and charitable groups towards Okehampton Foodbank over the last week. Money has been given, financial help has been pledged, supermarkets and other local food outlets have been generous in their support and donations of food have been pouring in through our food collection points.
'Do we have enough? Who can tell. With the situation changing daily, it is almost impossible to know. We suspect that the demand for food over the coming weeks and months will grow and grow. It has already doubled from 12-15 food parcels a week to 30 food parcels last week, including ten that were school meal replacements. All I can ask is that people continue to be generous and the foodbank will do its best to keep up with the increased demand.
'We are currently working on the logistics and putting in place strategies to meet the need. Okehampton Foodbank will be operating from the Baptist Church and all new information will be displayed in the door window.
'A big thank you to everyone and we will keep you posted regarding our needs.'
Since Boris Johnson's announcement on Monday, uncertainty has grown among workers and people with other concerns. Citizens Advice is no longer providing face-to-face support but is available through other means, including 24 hour information online at www.citizensadvice.org.uk where an email and webchat service is also available. For general advice call the adviceline on 03444 111 444, Monday to Friday, between 9.30am and 4.30pm and for help applying for Universal Credit call 0800 144 8 444, Monday to Friday between 8am and 6pm.
South Tawton Parish Council has set up a voluntary emergency telephone system for people in its parish.
A spokesperson for the council said: 'If you are having to self-isolate due to having contracted Covid-19 or because you are elderly or have a pre-existing health condition and require assistance from your local community to help organise deliveries of food and medical supplies, please contact us on 01837 500999, option 2, or email [email protected]
'A local volunteer will be asked to contact you to offer assistance. If you would just like to stay in touch with someone feel free to use the above number and email address.'
GP practices in the area are no longer offering face-to-face appointments, with Okehampton Medical Centre urging people to fill out the eConsult form on the website, after which the practice will make contact advising of the next stage, either a phone call with a GP or a face-to-face appointment if necessary. Anyone who doesn't have access to the internet can call the practice and speak to an advisor who will ask questions and fill out the form on their behalf.
Ruby Country Medical Group, which runs the surgery in Hatherleigh, has also closed the doors to its practices, encouraging people to call 01409 253692 instead.
Comments
To leave a comment you need to create an account. |
All comments 0