Exciting historic barge find in canal mud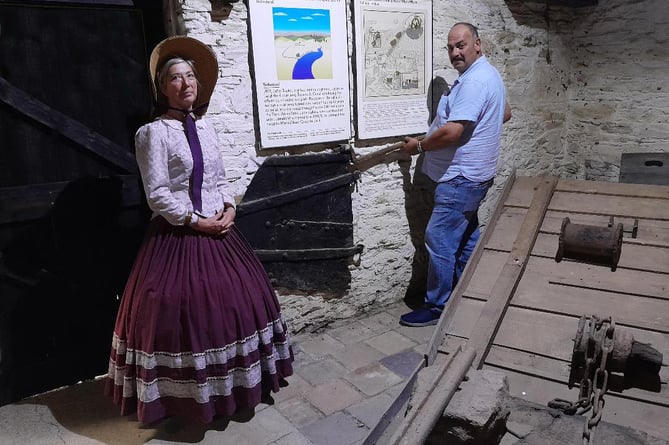 Historic barge tiller displayed at Morwellham Quay by Martyn Langsford of South West Water and Tessa Wannell of the quay
(tindle )
Subscribe newsletter
Subscribe to our email and get updates right in your inbox.
A LOCAL historian is excited over a recent find of a boat part belonging to a canal barge which were used about 200 years ago.
The iron tiller which was used to help steer the canal barge was found buried in mud in the Tavistock Canal by the man responsible for keeping the canal flowing.
South West Water Leatsman Martyn Langsford was dredging the canal when he came across something metal and heavy in the mud. On removal it was suspected the object belonged to one of the canal barges which plied their trade along the canal from Tavistock to Morwellham Quay in the early nineteenth century.
However, identification was made difficult because photography had not been invented when the tiller (which joins to the rudder for steering)was made, so historians had to rely on drawings for confirmation.
Tavistock historian Simon Dell said: 'I am excited by this find because as it is the only one in existence it is significant and adds to the evidence and therefore, the story of the industrial history of the area.
'I've been lecturing and writing on historical archaeology in the area for a long time and it stands out as a fantastic find, both archaeologically and historically. There are only a few drawings of the tiller which are in Tavistock Museum along with a barge rudder, so I took it to canal archaeologist Robert Waterhouse who confirmed it to be a barge tiller.'
The final key to the identification was to see if the tiller actually fitted the rudder, so a visit to Morwellham Quay followed. Simon added: 'It was a case of seeing if 'Cinderella's slipper' fitted 'Cinderella's foot' and it did indeed fit perfectly in the barge rudder on display at the historic port.'
It will eventually go on permanent display at Morwellham after the September Heritage Open Days, when it can be seen at Tavistock Guildhall in the canal display room.
Simon said the cast iron tiller, manufactured locally with the rest of the barges, only survived because it was buried under water, preventing it rusting and was probably a spare which fell off the double-ended tub barge that used to be pulled along the canal without the need to turn.
None of the barges survived entirely, the rudder was found in a tunnel in 1976.
The now closed canal was built in the early 19th century to link Tavistock to Morwellham Quay on the River Tamar where cargoes of locally mined copper and slate, and other general goods were loaded from double-ended barges onto ships as big as 200 tons.
The canal is part of the Cornwall and West Devon Mining Landscape World Heritage Site.
Comments
To leave a comment you need to create an account. |
All comments 0