Excitement and pride at first train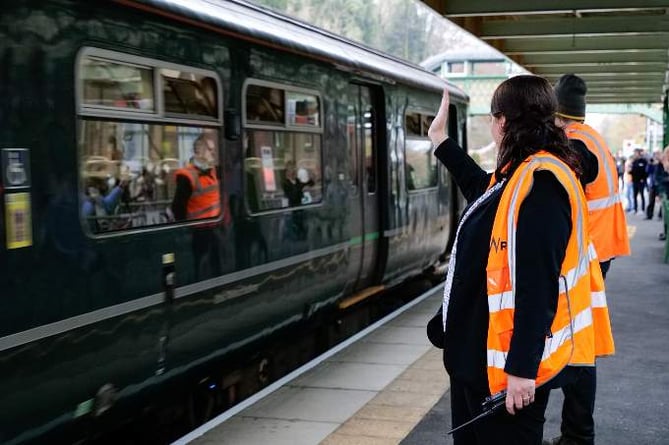 Subscribe newsletter
Subscribe to our email and get updates right in your inbox.
THEY got up at the crack of dawn to be part of Okehampton's history and board the first passenger train to Exeter on Saturday in nearly 50 years — some had tears in their eyes but all had smiles on their faces as they celebrated the return of the town's railway.
People came from near and far to be involved in not only Okehampton big day's but a hugely significant one for rail in general in the South West.
And as the 7.30am train trundled out of the station the world opened up for Okehampton with benefits predicted for the economy, tourism and job opportunities and the housing market.
But for some the day was full of pure nostalgia. Former Okehampton hairdresser Michael Woodley, whose family have lived in the town for generations, said he would not have met his wife Diana had it not been for the train and the railway was a major part of his childhood: 'I was a mad keen trainspotter,' he said. 'In those days before iPhones and technology we loved to come up here after school and see The Atlantic Coast Express.
'I remember the steam trains and there was a Bude branch line here on another platform.
'We could godown to Padstow or up to Exeter where I went to technical college. I used to catch the 7.10am from Okehampton.
'Diana used to get on the train at Yeoford, she was an apprentice hairdresser at a salon in Crediton and her father worked on the railway. I used to wave and encourage her to come and sit with us for that five-mile journey... the rest is history, it will be our golden wedding next year.'
Paul Voaden and wife Jill said this was the most exciting thing to happen in Okehampton since the couple moved back to the town 12 years ago:
'I used this railway service when I was a youngster,' he said. 'I used to go with my parents to Bude, Plymouth and Padstow.
'I studied for nine years in Liverpool and used to travel to Okehampton from there. It's so exciting to be taking the train from Okehampton again.
'My wife and I came back from our honeymoon on the paper train from Waterloo at 1.14am. It used to drop newspapers off at different locations on the way down, it was such a useful train.'
Laura Bird from Okehampton said she had not booked a ticket on the train but wanted to be at the station just to be part of the atmosphere.
'I walked up through the park with my dog Bonnie and it's lovely to be here for the first train,' she said.
'It's amazing to see trains coming to and from from Exeter.'
Julie and Malcolm Jones from Northlew said they were expecting to use the train a lot.
'I am really looking forward to it,' said Julie. 'It is a momentous day in Okehampton's history so we wanted to be here today. I think the train is going to be great for the town's economy.'
Dr Tom Bell and wife Sarah from South Zeal were among the passengers on the first train.
Sarah said: 'It's amazing — we have been hoping for this for some time. I told my firends that if I won the lottery I would buy a train and get it running to Exeter... but now I don't have to!
'I hope this is used as a commuter service, there is so much traffic on the A30 epsecially now with all the new housing. It will also bring people to Okehampton and to Dartmoor. It's marvellous.'
Keen traveller Norman Harvey from Exeter said the health and fitness benefits would be huge. 'I can see people on the train today with their rucksacks. Walkers are going to have access to the moor and Okehampoton has a lot to offer.'
And as Hatherleigh Silver Band played on the platform and The Hummingbirds sang tunes from the past, capital director of Network Rail Stuart Calvert said: 'What a brilliant day, there is such a sense of excitement... also a sense of pride from those people who have campaigned for years to achieve this. I think many of them cannot believe today is actually real. I am also incredibly proud of the Network Rail team which delivered it. It is great for everybody.'
See more reports and pictures in today's Times
Comments
To leave a comment you need to create an account. |
All comments 0