DETERMINED students from Duchy College completed their annual poppy run last week running miles in aid of the Royal British Legion's Poppy Appeal.
The students which are from the Military and Protective Services (MaPS) course based at the Stoke Climsland campus were chosen this year by the RBL to lead the Poppy Appeal in Callington and the surrounding area.
This month the students have been busy selling poppies in Callington Tesco, packing shopping bags, collecting donations, and last week completing loops of the college in a bid to raise as much as they can for the worthwhile cause.
The poppy run which has been run at the college every year since 2019 was held last Friday (November 10) and saw students run, walk, march as many one-mile loops of the college in a two-hour period as they could, and this year the students have gone above and beyond their £1,500 fundraising target and have already raised an amazing £1,800 so far.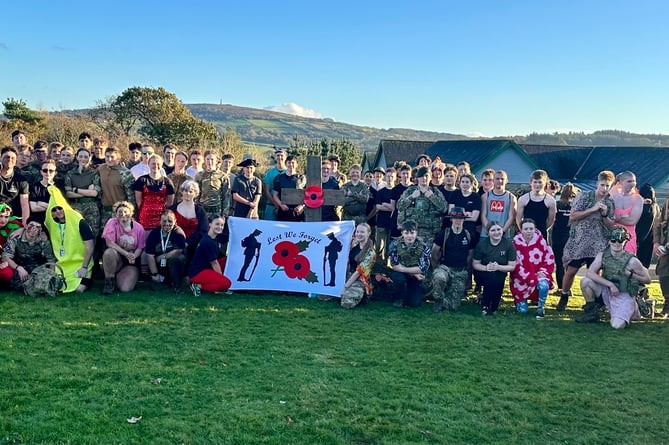 The poppy run took place in the afternoon following the students leading the morning's Remembrance service held at the college.
For the run, some students were donning fancy dress, while others were challenging themselves even further by wearing heavy kit with some weighing over 20kg.
Jon Stone, Senior Study Programme Manager, on the Military and Protective Services (MaPS) Academy Course explained how proud he is of the student's dedication and how they are embracing taking the lead of running the Poppy Appeal.
Jon said: "This is the first year that we've been asked to run the Poppy Appeal.
"I'm immensely proud of them. They've worked fantastically hard in a short time.
"The students are also really proud of themselves. Some of them are reaching their own individual challenges with some students wearing my body armour from Afghanistan which weighs 22kg. I'm really impressed.
"One of our students, Paige, who has a bakery page, 'Paige's Bakes' has donated a large cake for us to raffle off and that's gone down really well and rasied quite a bit."
Jon explained that since the poppy run began, the students have managed to raise over £12,500 for the RBL.
A charity, which is close to the hearts of both staff and students in terms of the vital work the charity does to support veterans of the British Armed Forces and their families.
"I know veterans who have been helped by the Royal British Legion and there is definitely that need for support", said Jon.
Jon continued, "it's quite an emotive time for me and other members of staff. It's a time to reflect and remember. Also, it's important because you almost feel that the charity only have this one shot every year to raise money, when it provides all-year-round support."
To donate visit the Duchy College Poppy Run for The Royal British Legion JustGiving Page.