Man on triple murder trial was 'whirlwind of destruction', court hears.
Wednesday 27th November 2019 11:19 am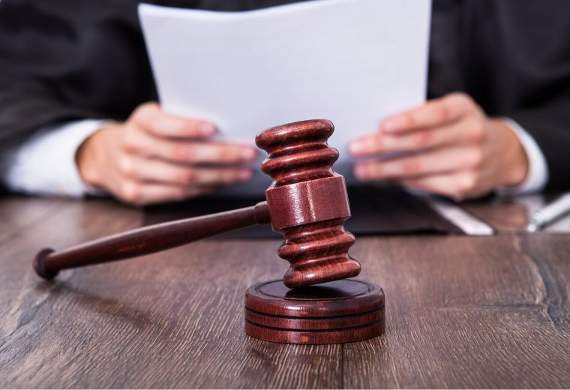 Subscribe newsletter
Subscribe to our email and get updates right in your inbox.
A FORMER Broadwoodkelly man who murdered three pensioners told a psychiatrist that he had been 'a whirlwind of destruction'.
Alexander Lewis-Ranwell was suffering from a delusion that all the victims were part of a paedophile ring which was imprisoning and abusing children in cellars hidden in their homes, a jury at Exeter Crown Court has heard.
He carried out the three killings just hours after being released by police at Barnstaple, where he was being held over a serious assault on a local farmer with a heavy lumber saw.
The 28-year-old paranoid schizophrenic battered 80-year-old Anthony Payne to death with a hammer in his home in Bonhay Road, Exeter, then killed 84-year-old twins Dick and Roger Carter with a spade at their home in Cowick Lane.
Both attacks were carried out in the space of three hours in the afternoon of February 10, the same day as police released him without him undergoing a psychiatric assessment.
A doctor who examined him the night before had recommended he be seen by a psychiatric nurse before being released but this did not happen and he was freed at 9.30am.
He had been sectioned twice in the recent past and his mental health had become critical at the time of the killings because he stopped taking anti-psychotic medication.
Lewis-Ranwell, now of Croyde, denies three counts of murder by reason of insanity.
The jury has been told that Lewis-Ranwell admitted killing all three victims and the only issue was whether he was legally insane at the time.
Dr John Sandford told the jury that Lewis-Ranwell was suffering from a delusion that he was on a quest to rescue a woman named Charlotte who had been missing for 25 years.
He believed she was being held by a gang of paedophiles which was also imprisoning and torturing other children in cellars and underground passages.
He also had other delusions, including that he had been sexually abused as a child at a cricket club, that police impregnated the toilet paper in his cell with drugs and that he was Jesus and could heal sick people.
Dr Sandford said Lewis-Ranwell was taken aback when he told him there had been no hidden cellars at the houses where he carried out the killings. By the time the doctor interviewed him Lewis-Ranwell was in Broadmoor, on medication, and recovering from the extreme psychotic episode.
He said: 'I was not telling him anything he did not know but it confirmed his worst fears that none of this was true. He said he was a whirlwind of destruction and he acknowledged he was not right to do what he did.
'My conclusion that at the time he was suffering delusional beliefs, disorganised thinking and false perceptions. It affected his ability to interpret events, appraise what was going on around him, apply logic to his decisions and exercise self control.
'He believed he was on a quest, which he believed was a morally good thing to do. He believed he was helping women and children who had been taken by paedophiles and was liberating them from crime.
'There is a question of whether this was an act of vigilantism. Paedophiles are commonly victims of vigilante violence and there is a question of whether this was an act of vigilantism rather than perceived necessity and whether he thought there were really children at risk.'
Dr Sandford also explained of Lewis-Ranwell's background. His mother was an IT project manager and his father was a retired insurance worker.
He was brought up in Guildford but at age of 13 family moved to Devon. He went on to the West Buckland Public School in North Devon.
He did well at school, passing 11 GCSEs, including seven A grades, but dropped out of sixth form as the first signs of his mental illness began to emerge and he thought that his school work was pointless.
He did a number of odd jobs locally, including in a factory and as a fencing contractor before he went travelling to Australia and New Zealand.
He returned to Britain and worked for a short time as a scaffolder in London before becoming a 'ski bum', working in French resorts.
Lewis-Ranwell returned to Britain where his illness became more marked, leading to him being sectioned under the Mental Health Act in 2016 and 2017.
He stopped working and was homeless in North Devon before finding a temporary home at a campsite in Croyde.
Earlier, the jury heard how Lewis-Ranwell's mother advised police not to release him and an inspector warned he posed a potential risk.
Lewis-Ranwell was arrested twice in the three days before he carried out the killings. The first time was on October 8 when he had burgled one farm near Combe Martin, behaved oddly at another, and been thrown out of the Castle Inn by police after refusing to leave.
He was arrested again on February 9 after attacking Goodleigh farmer John Ellis with a saw and a four-foot long stick.
Prosecutor Richard Smith QC said on February 8 in North Devon, Lewis-Ranwell told officers that he had 'mental health issues' which included suffering from psychosis and being sectioned on two previous occasions two or three years earlier.
He also revealed he had a 'history of substance misuse'.
During his first detention he was abusive to his mother in a phone call and she later contacted the police to say she had 'grave concerns' if her son was released from custody.
At 2.43am he was charged with a farm burglary and criminal damage to his cell and at 02.49am was released and taken by police to the Freedom Centre which houses homeless and vulnerable people.
But he left there after about three hours and went to John Ellis' smallholding where he attacked the 82 year old farmer with a saw and four foot long stick, leaving him with arm wounds.
Lewis-Ranwell was arrested for a second time following the attack on Mr Ellis and spent the next 24 hours back in Barnstaple police custody being assessed.
His second arrest came just seven hours after he had been released the first time.
During this second detention he behaved aggressively and tried to grab a Taser weapon from the holster of one officer and was taken to the ground. He also urinated in three police cells and was spitting.
The court heard he was interviewed through the cell door hatch and called Mr Ellis a 'pervert'.
He was seen by a doctor who said Lewis-Ranwell made random comments and revealed he had tried to kill himself a couple of times when he was a child because 'of abuse at your hands'.
But told the doctor he 'did not want to kill himself because he couldn't be bothered'.
A police inspector saw Lewis-Ranwell and said he was 'polite and engaging but not making much sense' and at that time he believed he was a 'serious risk to the public'.
The doctor who examined him said Lewis-Ranwell denied being suicidal or having any intention to harm others.
He added he was verbally aggressive to police officers saying he was 'allergic to police officers' and he was in a low mood and spitting all over the cell.
The doctor recommended that Lewis-Ranwell should be seen by a mental health nurse in the morning before his release from custody. The doctor said at that stage he was fit to be detained, charged and interviewed.
Lewis-Ranwell refused to take part in an identity parade in connection with the attack on Mr Ellis and at 9.32am on February 10 he was released on police bail and told to surrender to Barnstaple police station on February 25.
Instead, he went straight to Exeter and carried out the first killing within 30 minutes of arriving and just 350 yards from the station.
Comments
To leave a comment you need to create an account. |
All comments 0