Roadford Lake rowers demonstrate oar-some spirit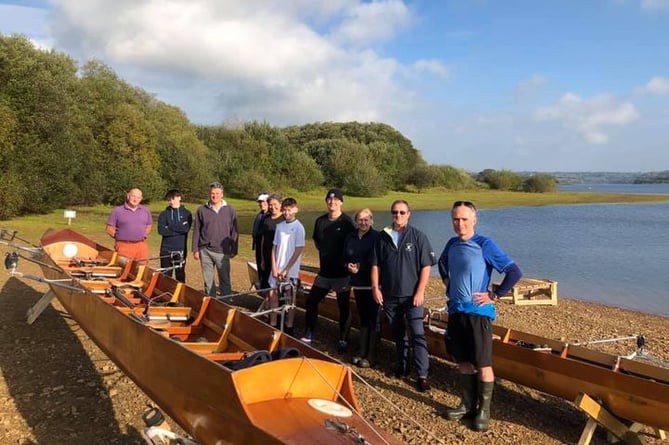 Roadford Lake rowers
(Roadford Lake Rowing Club/Ian Lamb )
Subscribe newsletter
Subscribe to our email and get updates right in your inbox.
Roadford Lake Rowing Club are making progress in huge strokes as they set their eyes to the future following their first AGM.
Club captain Ian Lamb, Nigel Jones, Helen Skuse and Robin Cohen were always keen to get a rowing club in the area up and running for some time. An opportunity arose around Roadford Lake, and the four, all of whom are enthusiastic rowers who had participated in the sport 20 years ago, stormed ahead to set up the club with it's base at the lake's activity centre.
The club officially launched in May 2021 last year and was in full swing by August.
The club prides itself on being grassroots, amateur and non-profit. Membership has steadily grown and the club host and range of abilities and ages — the youngest member is 14 and the eldest in their 60s. A GP from Okehampton even gets involved with two of their children. Awareness spread through word of mouth and with the help of social media to those in the Roadford and Okehampton areas. The club participate in activities and training all together as a single unit, instead of being split up into smaller sections. They mainly row in fours and participate in gig and sliding seat rowing.
The rowers are always looking to expand their numbers and periodically offer a range of taster sessions which fare to great popularity. The next in April has already received huge interest.
Club captain Ian Lamb said: 'It's brilliant to have been able to start up a grass roots rowing club at Roadford Lake and see the enthusiastic new rowers, as well as those with experience, getting out on the water and rowing well. It's really promising to see how quickly those that are new to the club and the sport have picked it up. The great progress we have made in our first year means we can build on that success in the coming years.
Although initially running as a self-funded club, using their own equipment and building homemade racks at the lake to store boats, the club have just received two sets of funding for the first time: £300 from Waitrose community matters and £1,500 from Devon County Council, which the club has decided to invest in training. Members are always exploring new avenues for additional funding to strengthen the club's expansion and they regularly network with other rowing clubs in Exeter and Falmouth.
The club is now affiliated with the West of England Rowing Association and wishes to connect with British Rowing, the national governing body for rowing, in the future. Members have high aspirations and have also entertained the possibility of taking part in competitive events.
Ian said: 'We're not training to compete right now, we're recreational but it's something we'd consider if there was sufficient interest. We'd love to host a regatta or regatta-style event on the lake in the future.'
The club will be promoting themselves this summer at Okehampton Community Recreation Association's event 'Super Sporting Sunday' on Sunday, July 24 — a festival of taster sports and activities for families to try.
Ian said: 'Our warmest thanks go out to activity manager Matt Lennox at the lake of South West Lakes Trust who has been always been great to us as a group, he's always been so helpful and supportive. Ian Blithe from OCRA has also been a great help.'
Comments
To leave a comment you need to create an account. |
All comments 0