Marathon test for biker Maya in charity ride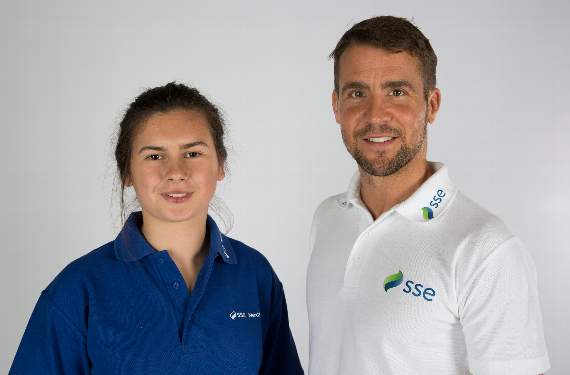 Mountain biker Maya Atkinson from Crapstone with SSE ambassador Leon Taylor, who won diving silver at the 2004 Athens Olympics.
()
Subscribe newsletter
Subscribe to our email and get updates right in your inbox.
CRAPSTONE'S Maya Atkinson admits her 12-hour night-time charity ride earlier this month was one of the hardest things she has ever done – but knows even greater challenges lie ahead.
Maya is one of the country's rising stars in mountain biking and receives finding from SportsAid through the SSE Next Generation programme. So when the charity hosted its SportsAid Week to raise awareness, she was keen to play her part.
The 16-year-old and her mum Sovanchan decided they would take part in a 12-hour ride down one of the tracks at their local club Gawton Gravity Hub through the night and were joined at different stages by friends.
They raised more than £640 for charity and while it was a challenging proposition, Maya stated it was well worth the effort.
She said: 'Overall it was one of the hardest things I have ever done, but knowing the money raised would go to a good charity made it all worthwhile.
'It was a nice way to end the season. Now I'm looking forward to the regional winter series. I've had my ups and downs over the year but I'm also looking to qualify for the UCI Downhill World Cup.
'A junior women's category has just been introduced which will allow more junior women to compete at the World Cup. The event at Fort William is a great event and it's really iconic. I've been competing in national tournaments there for a while now so it's a familiar course for me.'
Maya had to settle for third in the youth category at the National Downhill Championships in July, but is currently ranked second in the country.
She added: 'At the moment I'm going to the gym a lot and doing some training rides. I like to train with faster riders than me as it helps me to improve my times.  And I try to ride more technical tracks so I can get faster.
'The World Cup standard is so difficult so I need to be getting quicker all the time. The gym work will help me make a lot of the harder drops and jumps.
'The great thing is that this will be my first year of the junior World Cup so I'll still have another year of juniors so hopefully it'll be a good start.
'This World Cup year will be learning about the experiences of the World Cup scene and tracks. I am going to do some European races to earn UCI points, so that I don't have to rely on British Cycling selecting me for a wild card, but I can enter the World Cup as a privateer. 
'Next year, my final year as a junior, I would have one year of experience under my belt and enough UCI points to go to the World Cup without selection. It will be the year that I would hope to attend and contest the World Championship as the GB Junior Women competitor, if selected.' 
SSE's Next Generation programme partners with SportsAid to provide financial support and training to the sports stars of the future. Keep up to date with the latest @SSENextGen
Comments
To leave a comment you need to create an account. |
All comments 0