Time is running out to join in survey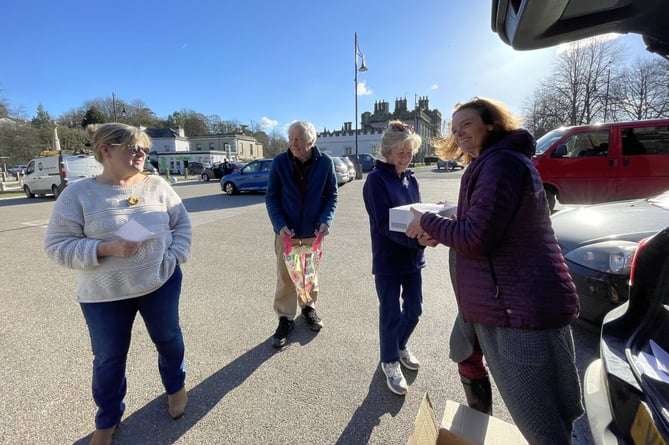 Deputy mayor of Tavistock Ursula Mann handing out a survey on the town's neighbourhood plan. Ten per cent of households have already had their say but more are being encouraged to take part.
(Ursula Mann )
Subscribe newsletter
Subscribe to our email and get updates right in your inbox.
THE steering group behind a scheme to draw up a vital plan for the future of Tavistock say ten per cent of households have already had their say on what they want for the West Devon market town.
The chair of the town's neighbourhood development plan, deputy mayor Ursula Mann, said around 610 from Tavistock's 6,100 households had responded to a critical survey launched just over a month ago.
But Cllr Mann warned residents that time was running out for residents to take part in the survey, seen as a key element in getting the plan passed by an independent inspector.
The cut-off date for responses is May 2, with the steering committee looking to stage one more major push for residents' comments before the end of the month.
Cllr Mann said: 'I am very encouraged with the response we have had so far, but we are looking for as many people as possible to take part, so we need those surveys back from people who want to have their say on the town's future as soon as possible.'
The survey, both online and in paper form, has produced a wide range of suggestions from members of the community, with under-18s making up the smallest percentage, while the majority are coming from the 45-64 age group.
Steering group members have particularly targeted the town's younger age group as it will be those members of the community who will have to live with future developments in Tavistock.
The plan is being put together to allow the community to have more say in what is built in Tavistock when development applications are put before West Devon Borough Council for consideration.
The borough council, as the planning authority for West Devon, would be legally bound to consider Tavistock's Neighbourhood Development plan before coming to a decision.
Although the plan would also potentially indicate where other facilities such as shops and leisure services would go, it is the increasing amount of housing development and the pressure that is putting on schools and health facilities in Tavistock which has concerned some sections of the community in recent years.
Cllr Mann said: 'I think it's exciting that we have got the number of responses we have got so far and the spread across the age ranges is pretty good.
'Personally, I would like to see a similar percentage of responses as the number of voters you would get turning out in a general election, but it we managed to get 800 households, then I feel that would be great.
'The survey has basically been going a month and it demonstrates to us that people who live here are interested in what goes on in Tavistock.
'However, time is moving on and we feel the number of responses is slowing down, so we are holding another event in Bedford Square on April 23 involving the town crier to hopefully get some more in.'
Input from as many members of the community is seen as crucial to the success of the plan, which will not be signed off by an independent inspector once it is completed unless they are satisfied it is community driven.
Residents can find out more about how they can involved via tavistockplan.info or by emailing [email protected]
Comments
To leave a comment you need to create an account. |
All comments 0