New food waste recycling service launched at Shebbear College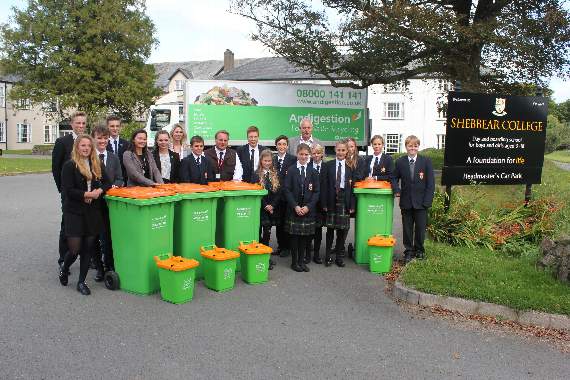 Subscribe newsletter
Subscribe to our email and get updates right in your inbox.
A NEW food waste recycling service has been launched at Shebbear College.
Students at the college were visited by representatives from Holsworthy based Andigestion along with Neil Parish, chair of the EFRA (Environment, Food and Rural Affairs) Select Committee and MP for Tiverton and Honiton.
Andigestion collect all the food waste from the school and convert it into digestate fertilisers through a process of green energy which produces electricity. A by-product of the process is heat, which in turn is used to dry the woodchips which are delivered to the school to fuel its biomass boilers.
Mr Parish spoke to Form 1, 2 and Sixth Form pupils about sustainable energy and politics before taking a tour of Shebbear's campus facilities, biomass plants and solar array.
The launch by Andigestion, the county's food waste recycling provider, of its new Wheelie Bin Service means that businesses can now benefit from this flexible, cost-effective and eco-friendly solution for dealing with leftovers.
As pioneers of anaerobic digestion in the UK, Andigestion's Holsworthy plant was the UK's first 'food only' anaerobic digestion plant. The company currently processes around 70,000 tonnes a year of residential and commercial food waste from across Devon to produce electricity which is put back into the national grid for use in local homes. The by-product is a liquid fertiliser that local farmers can use in place of carbon intensive mineral fertilisers.
'Our new Wheelie Bin Service now enables small and medium-sized businesses in Devon to also dispose of their food waste and leftovers in an efficient, clean and green eco-friendly way,' said Mike Lowe, operations director at Andigestion.
Mr Parish said: 'I'm delighted to support this new service as we are all constantly trying to reduce the amount of food waste that goes to landfill — it's a very big issue which affects us all. I'm also very pleased that Shebbear College will be making good use of the service and hope that businesses across the county will also be inspired to play a part in reducing the amount of food waste that currently goes to landfill.'
Sue Letchford, finance co-ordinator at Shebbear College, said: 'We are proud to be an eco-school so green issues are an important part of our school culture and ethics,' she said. 'We encourage pupils to recycle in all sorts of ways on a day to day basis, so this new service perfectly complements our commitment to tackling food waste and reducing landfill.'
Comments
To leave a comment you need to create an account. |
All comments 0