Bells of Chagford's church refurbished and rehung for the first time in over a century
Thursday 26th January 2017 6:00 pm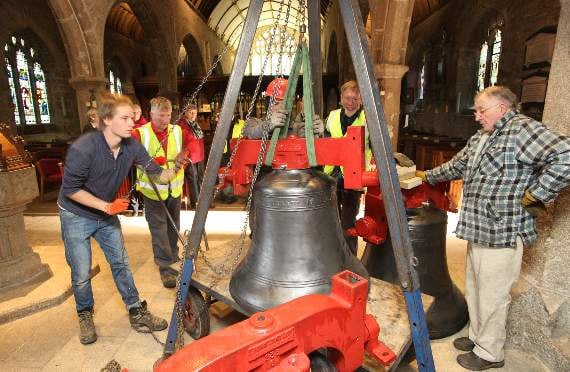 Subscribe newsletter
Subscribe to our email and get updates right in your inbox.
THE historic bells of Chagford's parish church will be re-hung this week after they were removed for refurbishment for the first time since 1914.
The Church of St Michael the Archangel fell uncharacteristically silent almost five months ago when its bells were shipped off to be cleaned and updated.
The bells spent many weeks being assessed and refurbished at the John Taylor and Co bell foundry in Loughborough and were delivered back to the church on Tuesday (January 24).
The bells were recast a century ago during the first year of the First World War, this was the first time they had been taken down since then.
The church had removed its bells in order for much needed renovation.
While the bells were in a good condition, there was a lot of work needed to be done to the mechanisms.
The original headstock, which is part used to hang the bell, was made out of wood and replaced with cast iron. The original frame within the tower was made of oak, and this too had to be replaced with cast iron.
A church representative said that the estimated cost of the whole project was around £75,000.
The church fund raised for the project and were also given grants from various benefactors, including £10,000 from the Lottery Heritage Fund and £7,400 from the Devon Church Bell Restoration Fund.
Jonathan Bint, who's been a Chagford bell ringer for 40 years, said: 'It's been a bit odd not having the bells — although we also ring the six at Drewsteignton when we have enough ringers available, so we're not getting completely rusty in the meantime!
'I have to confess that I've enjoyed the Sunday morning lie-in, as we would normally ring before the 9.30am service.
'That said, it will be good to have them back again, and other folks in the town have said how they missed them.
'They are lovely bells, but over the century since they were hung, with the deterioration of the frame and the wear of the fittings, they weren't going well, weren't easy to handle and had generally become hard work to ring.
'We would hope that once the rehanging is complete we'll have one of the best rings of eight bells anywhere!
'That should also help when it comes to recruiting and training up new ringers.
'Our old church warden's accounts record that there has been ringing here since 1480, when the tower was first built, so it's quite humbling to be part of such an old and unbroken tradition and important that we do our bit to ensure that it continues.'
Comments
To leave a comment you need to create an account. |
All comments 0