Storm Eunice wreaks havoc across West Devon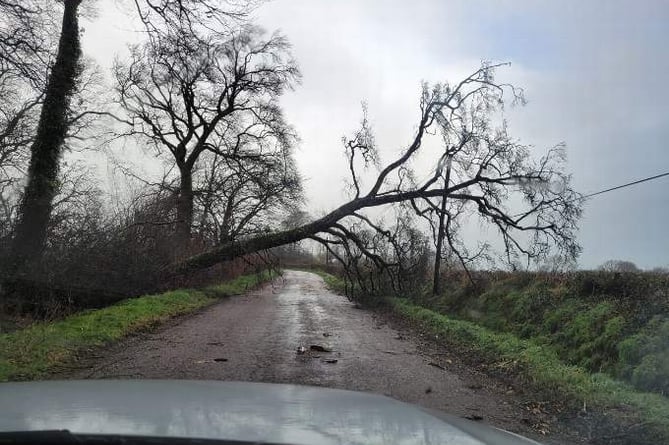 Storm Eustice toppled this tree on the road at Halwill Junction. Picture by Jamie Wilson.
()
Subscribe newsletter
Subscribe to our email and get updates right in your inbox.
PEOPLE battened down the hatches in West Devon today as Storm Eunice swept across the borough, uprooting trees, blowing down fences and snatching tiles off roofs.
Morning saw the worst of the storm sweep in from the west, with gusts of up to 100mph in places.
In West Devon, homes were left without power and fallen trees led to circuitous routes home for some people caught out in the storm.
Highways at county council were inundated, with more than 500 calls and 150 highways officers working around the clock to clear debris from roads.
Schools were shut, trains cancelled and people stayed confined to barracks where they possibly could.
Some however, had to be out and about for work.
Among them was Ian Mansfield who came across a fallen tree on a back lane between Coldridge and North Tawton.
His journey back home to North Tawton from seeing a customer in Coldridge took 50 minutes instead of the usual ten.
He said: 'One of the branches had been shorn off. It was completely blocking the road.
'I called the police and they said they would get to it when they could. I had to double back on myself and go through some of the other country lanes.
'I work as a health and safety consultant and I was on the way back from seeing a client.
'Normally it is a ten-minute drive to get home but it took me 50 minutes to get back this time.
'It was a lot quieter on the roads than usual this morning. I did flag down a couple of drivers and warn them that the tree was down.
In Simmons Park, Okehampton, a huge sycamore tree came crashing down over a path, ripped out by its roots by the force of the storm.
Local tree surgeons worked throughout the afternoon to cut up the massive trunk and branches and clear the path.
Residents witnessed a tree being blown down over Meavy Road near Yelverton.
At Halwill Junction, Jamie Wilson also came across a tree blocking the lane near his home.
His wife Ailie works at Halwill Primary School, which was shut along with all other schools in the area.
She said: 'My husband took the dogs out this morning and he was on his way back when he came across the tree across the lane. We're closed here at the school, we decided to close yesterday.'
The power had cut out, she said 'just as we were doing a Zoom call for my son'.
In Okehampton, borough councillor Mike Davies saw the slates snatched from his back roof at the height of the storm's ferocity.
'It was first thing, about 8am,' he said. 'We heard this noise in the roof and then suddenly there was this massive crash and there were all these slates in the back garden. I haven't been out there to look yet, it is still blowing.'
He works assessing insurance companies across the South West. 'We are going to be busy for months and months,' he added.
In Sampford Courtenay, parish council chair Michele Wilson said they wanted to thank county council highways staff for their work in the parish. She has placed the team on the Sampford Courtenay Parish Thanks and Recognition Register.
With winds expected to remain strong across the region tomorrow, a Met Office Amber warning remains in place.
Train company Great Western Railway suspended all trains across Devon, Cornwall and Somerset and the rest of their network for the rest of today.
And with gritters being deployed tonight to counter the expected drop in temperature, and the amount of debris still on the network, people are being advised to only drive tonight if absolutely necessary.
Across Devon there has been reports of debris and branches on roads, flooding and damaged trees. In one incident, a damaged tree was tangled up in a power line; in North Devon, a barn roof was ripped off and landed on a road, blocking one of the areas gritting routes.
Councillor Stuart Hughes, Devon County Councils Cabinet Member for Highways Management said: 'I want to thank everyone involved including all the highways crews, contractors, tree surgeons and control centre staff for their hard work – either through responding to incidents directly or through informing the public they have helped keep people safe.
'The winds will still be quite high tonight and a Yellow Wind Warning will be in force over Saturday and strong winds are expected in places right up until the beginning of next week.
'A significant number of trees have blown over and there's lots of other debris on the network. We are prioritising the primary salting network, but some incidents are still too dangerous to clear until the winds subside.
'We have extensive gritting planned for the evening but because the debris still on the road we advise that the public should only drive if it's absolutely essential.
'Please check @DevonAlert for updates.'
Comments
To leave a comment you need to create an account. |
All comments 0