Okehampton rugby women prove their mettle in first home game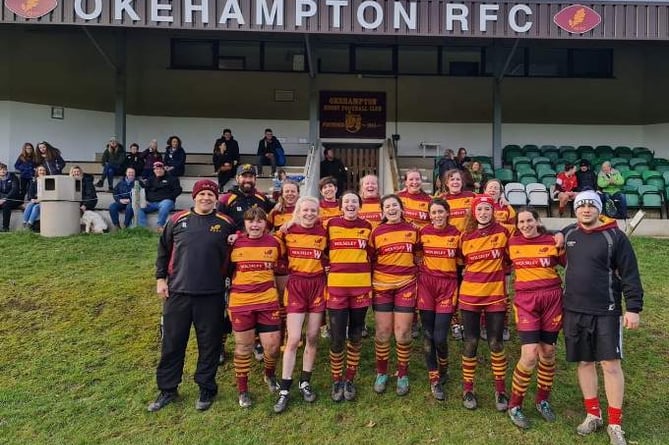 Subscribe newsletter
Subscribe to our email and get updates right in your inbox.
Okehampton RFC Women's team have proven that they are a force to be reckoned with in their first home game back at Oaklands Park last weekend.
In their third game of the season, the ladies came out fighting and took on the experienced Camborne RFC. Initially, they were due to face Exeter Saracens but a last minute change of schedule meant they were to play Camborne in a friendly instead. With three tries under their belts, the ladies narrowly lost by a score of 27-15.
After their first two games of the season, both away at Brixham and Teignmouth, the girls' next game is this Sunday at home against Withycombe. Despite the narrow loss of their last game, the Okehampton women's team is continuing to grow in strength.
The team first formed in early 2020 when coaches set up a team after ladies in Okehampton had expressed interest in playing, particularly after seeing teams in nearby locations like Launceston. However, immediately after playing their first ever game, everyone was thrown into lockdown when pandemic restrictions first came into force in March 2020. During that time a few members left or moved on, leaving numbers lower than usual. Now restrictions have finally lifted and life is returning to normal, the girls are back out in full force, training weekly and are always welcoming new blood, encouraging potential new members to sign up and join in. The invite extends to those further afield from Okehampton and women of any and all fitness and rugby abilities.
Women's Captain Milly Davies said: 'Some people who come and train don't want to play competitively or even a contact game. We're a development team, there's no pressure to train nor commitment requirements. We've had members join who are 17 but to play in games you need to be. We all have great fun and we've got lots of socials planned - it's a real community sport. (Coaches) Tom (Powell) and Ian (Langbridge) have put so much into the team and we're so grateful to them.'
The coaches are both experienced rugby players. Sometimes, Okehampton 'borrow' players off Camborne and vice versa to ensure both teams have 15 players. As some players have full time working or parenting commitments, ensuring a full team is not always a given.
Coach Tom said: 'Our first few fixtures of the season have been very encouraging and we've built a good friendship with Camborne. We're not trying to imminently enter a league, we're just building our team up organically and make it as accessible for everyone as possible. We have great fun.'
Comments
To leave a comment you need to create an account. |
All comments 0