Tavistock drone champ stars with F1 legend
Friday 24th January 2020 3:00 pm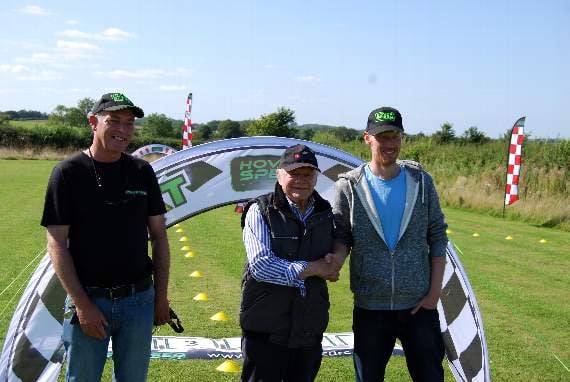 James (far right) is pictured with Sir David Jason (centre) on the actor's first drone flying experience alongside Mike Ellicott, UK and European 1/5th scale IC car champion (left).
Subscribe newsletter
Subscribe to our email and get updates right in your inbox.
An ICT primary school technician from Tavistock, whose drone flying hobby has seen him travel around the world and clinch the title of British National Drone Racing Champion, found his hobby taking him to new heights recently — starring in a video alongside Formula 1 world champion Lewis Hamilton.
James Bowles, 38, became the British National Drone Racing Champion in 2015, which also made him the first 'national' FPV (first person view) drone racing champion of any country in the world at the time.
Due to his high-level drone flying, James is sponsored by numerous companies, one of which — Droneislife — asked him to be in a video commissioned by Vodafone UK to demonstrate FPV racing with a 'known star'.
The star turned out to be the Formula 1 champion, whom he also had the pleasure to teach how to fly a drone.
James said: 'I was joined by two other pilots on the day, Kelsey Hunt who is the highest ranked female FPV pilot in the UK and Shane Hedges, owner of Droneislife. They kept the identity of the star secret from me and Kelsey on the day so that when we took off our goggles after doing a demonstration race we see Lewis Hamilton for the first time and get our genuine reactions on film.
'I was honoured enough to have Lewis riding along on my actual flight as it happened. He was wearing FPV goggles at the time which shows him the exact image I am using to fly the track in real time. He was amazed at the speed and control of the drones and we talked to him about how they worked and the sort of fun we get up to with them.
'Lewis was a true gent to meet. He seemed genuiney interested in everything we had to say and was a very good student when it came to teaching him to fly a quad, which he did without crashing, which is a huge achievement for anyone starting out in the hobby.'
Lewis Hamilton is not the first celebrity that the technician, who works at Tavistock and St Andrew's primary schools, has met through his hobby however. He has also filmed a segment for ITV2's 'It's Not Rocket Science' with comedian Romesh Ranganathan and rally driver Iwan Evans, where he took part in a 'white van vs drone' speed delivery challenge.
James said: 'It was so much fun to do. I had to stand inches away from Romesh while he ad-libbed such hilarious comments that I found it hard to keep a straight face. He was so funny on and off camera and was a pleasure to be around.'
James also helped acting legend Sir David Jason on his first ever FPV ride which he said was a 'huge honour' for him.
'Mr Jason was on form that day with lightening quick wit and hilarious jokes. He had a great time flying around a FPV race track with me. I also got to take Wheeler Dealer presenter Mike Brewer out for a fly the same day.'
James started flying drones in 2012 after watching a Youtube video and said he was just as addicted to the sport and hobby today as he was back then.
He is also part of the Tavistock Model Flying Club.
Comments
To leave a comment you need to create an account. |
All comments 0