Sponsors keep Santa's sleigh on the road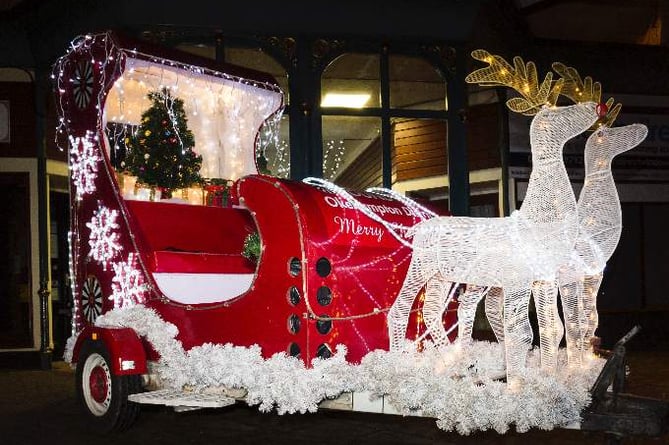 Subscribe newsletter
Subscribe to our email and get updates right in your inbox.
LOCAL businesses have helped Okehampton Round Table keep Santa's sleigh on the road to brighten children's Christmas up for another year running.
Over the past week, the Okehampton Round Table sleigh, complete with special guest Father Christmas on board, has been touring every area in town as well as the surrounding villages bringing Christmas music, lights and festive cheer to all.
Members have not let an incident in which eggs were thrown at the sleigh last Friday halt them in their tracks, saying those concerned have cleaned off the egg yolk and apologised.
The sleigh is due to continue on its festive mission tomorrow (Saturday), visiting Sticklepath and South Zeal, and touring North Tawton on Sunday.
Sponsorship from Redrow South West, Forthglade Natural Pet Food, Waitrose, Gilbert Stephens Solicitors and the WCS Group has helped pay for essential repairs.
Round Table members have also been delivering Christmas trees to locals to raise funds to cover the sleigh's running costs.
The sleigh is manned by volunteers from the Okehampton Round Table, making time in their busy lives to make sure that youngsters get the chance to see Father Christmas.
Round Table treasurer James Mallen was one of the crew which took the sleigh out for its first tour of the Meldon Fields estate last Thursday (December 9), a couple of days later than originally planned due to unforeseen circumstances.
He said: 'The best part of the Round Table for me is going around and seeing the children's faces when Santa turns up at their house.
'We run the sleigh primarily so the children can see Santa although we do take our collection boxes and buckets along too.
'I was out on Thursday night in the driving wind and rain and the only thing that keeps you going is the kids coming running out, the look on their faces when they see that Santa has come to see them. The Santa suit has been on the radiator all day today drying out, but it was worth it.'
Santa's Sleigh has been visiting a different area of the town each night as well as Hatherleigh.
Over the weekend, Santa is heading out to the villages, with a visit to Sticklepath and South Zeal tomorrow night and a tour of North Tawton on Sunday. See the charity's Facebook page for up to date timings.
Kevin Bradford, area sales manager at Redrow Homes South West, said: 'We are honoured to be a contributing factor to the Okehampton Round Table's Christmas Sleigh initiative for the third year in a row. The charity does amazing work, and there was therefore no hesitation to sponsor them again this year. We're committed to building thriving communities in the areas close to our development and the sleigh initiative is such a great way to bring the people together this time of year.'
The Okehampton Round Table gives all money raised to local good causes. It has donated 30 presents ready wrapped to the foodbank in time for Christmas, to give to children who may not otherwise receive a gift.
The Okehmapton Round Table also gave more than £100 of food to the recent PTFA Christmas breakfast at Okehampton Primary School.
Comments
To leave a comment you need to create an account. |
All comments 0