Search for woodland to be Simon's lasting legacy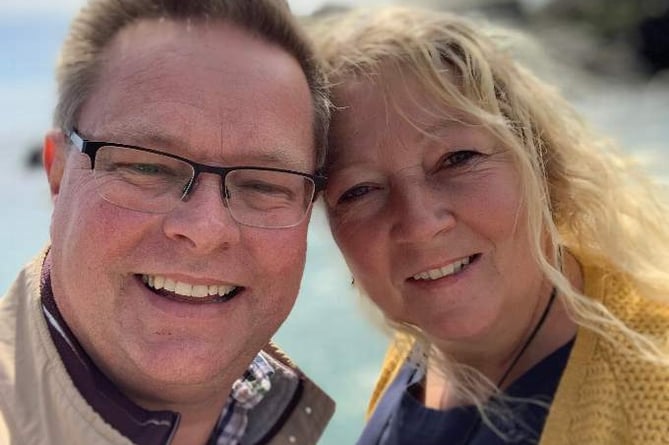 Simon and Ali
Subscribe newsletter
Subscribe to our email and get updates right in your inbox.
A YELVERTON woman whose husband has terminal cancer is appealing for help to find land to create a woodland to be his lasting legacy.
Ali Cowls and her husband Simon are desperately searching for a site of between two and four acres to turn into a woodland of native species within about five miles of their home. Ali said they were looking for somewhere where Simon could spend time before he died and which she and Simon's grown up son and daughter could visit to remember him.
Simon, who worked as a manager for Interserve managing the Royal Navy base at HMS Drake in Plymouth, has been living with bowel cancer for six years. Ali, who has taken early retirement after 34 years working at Derriford Hospital to spend quality time with her husband, said: 'We are just coming up against issues at the moment. We found one site over Dousland way but were outbid at auction which is really sad. There is a plot of land near Mary Tavy but that is too far really. We don't want to spread the net too wide. We are not asking for something for free, we want to purchase something, so we can keep Simon's memory alive.
'Simon has had bowel cancer now for six years and we have reached the end of all the treatment options now. He has fought so hard. We have been making plans and after we had organised the funeral we got down to the nitty-gritty of what charitable organisations he would like to benefit. He said what he wanted was for people to plant trees. He said the Queen is doing that for her Platinum Jubilee, so let's make a space so that his legacy lives on and which can be a nice quiet space which I can go to and his children can go to and friends can visit. He is only 52, he is young, so we want something to carry something on in a really positive way and we want us to have a really positive place where we can go to remember him.'
Ali added: 'We live right by the Yelverton roundabout and what we want to find is something within five miles of us, Meavy, Crapstone or between here and Tavistock. In my head I can see a vision of what I want it to look like.'
She said they loved living in Yelverton and so wanted the woodland to be close by.
'We've lived her for over six years. I was living in Plymouth before that. Simon is Cornish, but we won't hold that against him! He worked as a manager for Interserve, managing the sites for the Royal Navy, including HMS Drake.'
She explained that when Simon became very ill she left her job as a manager at Derriford Hospital. 'I took early retirement to look after him because we wanted to spend a lot of time together, so I finished my 34 year NHS career last year. Simon was diagnosed in 2016 and at that point we were going to go for a curative treatment and it did look really positive for a while. Then it came back. I think we have finished 84 rounds of chemo now and it is like it is not taking effect anymore so we have said enough is enough and we want to make the most of the time we have left.'
Comments
To leave a comment you need to create an account. |
All comments 0