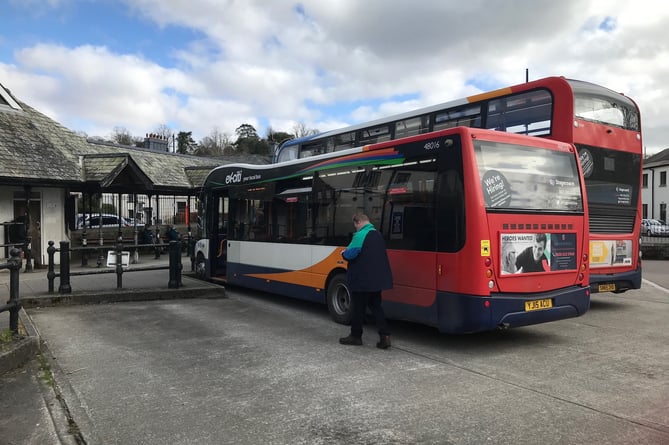 Subscribe newsletter
Subscribe to our email and get updates right in your inbox.
Adrian Parsons (Liberal Democrat, Altarnun and Stoke Climsland) told the meeting that changes brought in on April 10 were leaving people unable to get to work or access services.
The changes, which came in with the summer timetables, include a halving of the frequency of the no 79 bus between Callington and Tavistock.
At the same time, Cornwall Council has cut fares across a number of routes thanks to £23.5 million of funding from the Government.
But Cllr Andrew Long (Mebyon Kernow, Callington and St Dominic) said that people in East Cornwall were not seeing the benefit of lower fares as they often use routes which go across the border into Devon which are not eligible for the government funding. This includes the Callington to Tavistock service.
He said: 'Linda Taylor (council leader) gave a glowing report on the bus fare project and how it is helping people, but across Cornwall this is simply not the case. How is it levelling up when people in South East Cornwall are treated as second class citizens?'
And Cllr Parsons was visibly angry about the changes to services in his area. He quizzed Philips Desmonde, Cabinet member for transport, saying there had been 'an element of dishonesty' about the latest announcements from the council about bus services.
He said: 'There has been no mention of the many rural bus services that have been buried this week.'
Cllr Parsons mentioned a resident who uses the bus service between Launceston and Altarnun to get to and from work. He said that when they got off the bus last week the driver warned them that the service would no longer operate after Sunday.
Cllr Parsons said that there had been 'no consultation and no announcement'.
He added: 'This is happening right across East Cornwall. We have many residents without a link to their local town or to their job. This lady will have to quit her job if she can't find another transport. We have made these areas unsustainable locations.'
Cllr Desmonde responded saying that he thought that Cllr Parsons' comments about dishonesty were 'inflammatory and totally inappropriate'.
He said that rural bus services were a 'problem everywhere, not just East Cornwall'.
He said that the best way to keep services was to get people using them and that the council wanted to increase the amount of people using public transport.
Cllr Desmonde said that the council wanted to help provide a 'superlative quality bus service' but the issue was lack of demand for routes which made them economically unviable. He said that the bus fares project, aimed at encouraging people back on to the buses, was for Cornwall only. It could not be used for services which go across the border to Plymouth or Devon – a stipulation which he said had been 'imposed on us'.
Cllr Desmonde encouraged councillors to get in contact with him about any issues with bus routes and services and said that a list would be drawn up: 'In June we will put all the anomalies together and examine how we overcome these difficulties.'
Comments
To leave a comment you need to create an account. |
All comments 0