Brooke proves her head for heights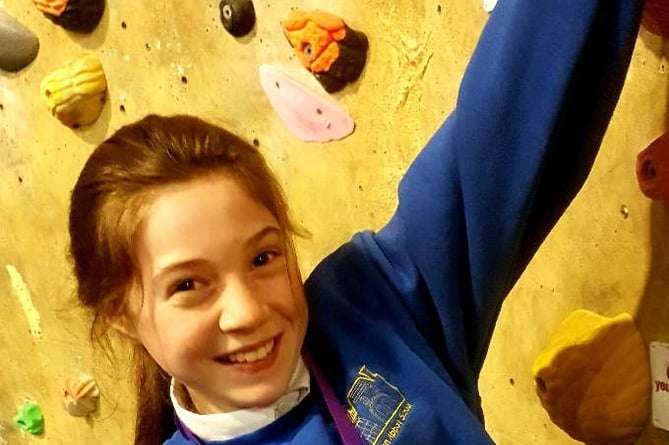 Subscribe newsletter
Subscribe to our email and get updates right in your inbox.
A YOUNG Milton Abbot girl has proved her mettle as an ace climber after coming fourth in the top national competition for young climbers.
Brooke Shaw, who is 11, came fourth in her age group at the finals of the British Youth Climbing Series at the weekend.
She secured her place after being declared South West Champion in the age nine to 11 category in the regional heats held at climbing centres across Devon and Cornwall.
She and her parents, who are climbers too, travelled to Southampton for the Grand Final at the Parthian Climbing Centre, run by the British Mountaineering Council.
The contest saw Brooke competing against the best climbers in her age group from across the UK and Ireland in two separate challenges Sport Climbing and Bouldering.
Sport climbing involves climbers attached to a rope attempting to climb as high as possible, this can be up to 25 metres in height or more.
Points are awarded for each hold a competitor reaches with the goal of getting to the top. Competitors have four routes to attempt, of increasing difficulty, and only get one go at each route, which is what makes this contest particularly tricky.
Bouldering is a test of the climber's problem solving ability, strength and flexibilty, as they climb over crash mats up to four to five metres above the ground without a rope.
Brooke and the other competitors were allowed five attempts at each climb, with eight climbs to attempt in a two-hour period.
Brooke competed in Sport Climbing on day one of the finals, managing to place fourth overall after completing two routes completed and gaining high scores on the others.
Day two of the finals was the Bouldering which is Brooke's weaker discipline. Despite this she fought incredibly hard to secure sixth place with four out of eight climbs completed.
Stepdad Joe Harris said: 'Across both days she fought back the nerves to climb courageously and with determination and was inspired by the talented competitors around her.
'After the scores from both days were combined and we were very proud to learn that Brooke had finished fourth place overall against 28 of the UK and Ireland's best climbers.
'She narrowly missed out on the podium place which would've potentially secured her a trial for the Junior British Climbing Team.
'Despite this she was incredibly pleased with her achievements and will no doubt have an opportunity to try again in the future.'
'We are incredibly proud of her,' he added. 'She has climbed since she was three and she has competed for quite some time.'
Brooke, who goes to Milton Abbot School, trains at The Barn climbing centre where her stepdad Joe and mum Naomi Butcher,have been instructors for 12 years and now design and build the new climbs.
Brooke also trains at the Climbing Hangar in Plymouth.
While this national competition is focused on indoor climbing, Brooke also enjoys climbing outdoors and can regularly be found scaling Dartmoor's tors with her parents.
Comments
To leave a comment you need to create an account. |
All comments 0