Spending a day with Devon and Cornwall's police dog unit
Thursday 26th April 2018 3:00 pm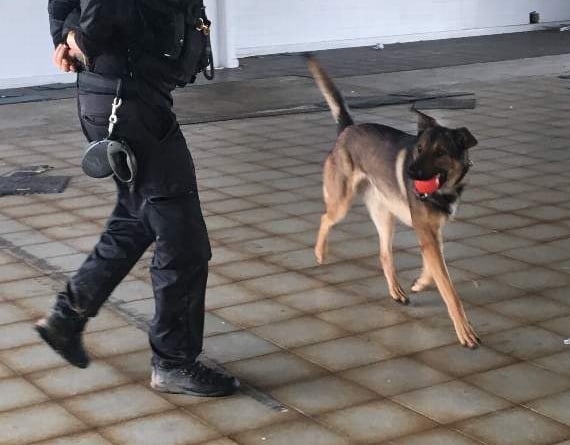 Subscribe newsletter
Subscribe to our email and get updates right in your inbox.
THE Times' Lindsay Turpin spends the day with PC Steve Waters and his faithful companion Dexter to experience one short day in the life of Devon and Cornwall's police dog unit.
Relishing the chance to be out from behind my desk at the Times, and out in the fresh air, I left my house early one Thursday morning with a spring in my step as I was about to spend the day with a police dog unit which in turn meant I was to be surrounded by my favourite breed of dog — the German Shepherd.
The day started when I met Steve and Dexter — thankfully — on a bright and sunny day at Liskeard Police Station at 8.30am, ready to experience one of their many training days.
The general purpose (GP) police dogs, which are always German Shepherds, are still one of the most trusted tools that Devon and Cornwall Police own when it comes to fighting crime or finding missing persons.
And, as I had previously met Dexter during a drug's operation in Tavistock last year, I was well aware that they were not like the lazy mutts I have at home.
Dexter, almost three years old, is a German Shepherd mixed with a Malinois Belgian Shepherd. The mixture provides a blend of valuable skills for the force, with the intelligence of a German Shepherd and the aggression of a Belgian Shepherd, giving a physical presence where needed.
I met five GP dogs that day and their barks — as expected — were terrifying! As a self-confessed 'dog person' I usually don't find myself intimidated by any dog, big or small, but something at the back of your mind tells you that maybe you should approach with caution!
Dexter was a litter of four brought in to the force along with his other siblings Nato and Riggs, while his other brother Reggie was sent to Dorset Police. This litter was brought into the force but Devon and Cornwall Police have a breeding programme for their general purpose German Shepherd dogs, run by retired Police Dog Sgt Paul Glennon.
The constant training for both dog and its handler
The role of a police dog handler is not an easy one — despite many opinions on the matter.
Trained dogs and their handlers play an important role in the force's mission to build safer communities. All GP dogs' duties include: Tracking missing people, searching for missing suspects, locating lost or stolen property, chasing and detaining suspects, and keeping order in crowd situations. Some dogs are even trained as specialists, which include firearms, explosives and drugs. The force also have two digital search dogs, who are used to recover hidden digital items.
'The most important part of a dog is its nose,' said Steve, who was in the force for nine years before he joined the dog unit. 'It's powerful and once they learn a scent they never forget it — an incredible skills that we then work to our benefit.'
Once a prospective handler has completed and passed the many assessments they will be partnered with a dog. Then the real work starts — dogs are trained to a 'standard' level for 13 weeks, when they are 12 to 14 months old.
At the end of the intensive 13-week course, which covers the principles of tracking, searching for people and property, obedience training and criminal work, there is an independent assessment to nationally recognised standards to ensure the dogs and handlers are suitable to undertake operational duties.
The dogs and handlers have to pass an annual assessment to ensure they continue to develop and be safe and effective in their role, as well as the standard two training days a month.
'Training is for the benefit of the dogs and the handlers,' added Steve. 'Training is hard for the dogs as it is meant to be realistic but they will work extremely hard for the rewards.'
On one of their training days which I attended was run by Tim Goodwin, instructor for Plymouth and Cornwall at the redundant Plymouth Airport.
The airport offers a large open grassland area for the dogs to practise tracking, while the old airport building is filled with areas perfect for the dogs to find the 'criminals' hiding in the building.
Now, preparing the area for the dogs to track is not a quick process, and despite the many warnings from Steve I was still not best equipped for the cold weather. Armed with a wooly hat, thick socks, thick leggings, wellies, two jumpers and a winter coat, stood outside in the cold weather last month was an 'experience'. Tracks were put down with articles for the dogs to follow along with a 'eight leg' pattern track. Laying down a route for the dogs to track is not something that can be rushed, so four hours down the line my hands were a little numb — not helpful when you need to take down notes in shorthand!
Anyway, after a quick tea break, it was time to stay indoors and catch the 'criminals' inside the airport building.
Tim, who manages a team of 17, said: 'If you are searching a building then you really need two of you so you can protect each other. That is why having a dog is so important — not only are they there to protect you, they are there to search for a person — and they have the skill to go into a building and instantly know if someone is there.
'There is a huge level of threat in a building — you can be attacked with any object, broken glass, a baseball bat — which is why our dog is our best tool and our trusted friend.
'There is a serious side to what we do — it's not just fun times with dogs — we can have a laugh amongst ourselves but it is very serious when we are on duty.'
If you are on Twitter and want to follow the Devon and Cornwall dog unit teams, go to @Devondogz and @CornwallDogs.
There are six dog offices in the force: Camborne, Exeter, Barnstaple, Ashburton, Plymouth and Bodmin.
In each of the offices there are five handlers for each A-E section and there are three dog sgts: Cornwall, Plymouth and Ashburton and Exeter and North Devon.
Several dog handlers also have a specialist dog — explosive search dogs, electronics detection dogs, passive indication dogs, and soon to be victim recovery dogs.
As well as Dexter, Steve also has Jet, a black Labrador, who is the only passive proactive search dog in the force.
Steve, a former soldier in the Army, said: 'We all work extremely hard — it's an important role and people rely on us.
'Dogs will do the role of ten officers, especially with missing people and containing a situation.
'Dog handlers are generally confident and good at what they do and able to work alone a lot of the time. It's hard and not a lot of people want to do this at 3am in the morning.
'I spend most of my time searching for lost people but it's a team effort — the dog has the hard job and I support him. My job is to keep him safe at all times and make sure I have control, but his job is to also keep me safe. We are a partnership.
'It's a great role and one I would hate to leave.'
The dogs will work anything up to eight to nine years old and live out their years with their handler or adoptive family.
Comments
To leave a comment you need to create an account. |
All comments 0