West Devon peer pledges to fight to protect local farmers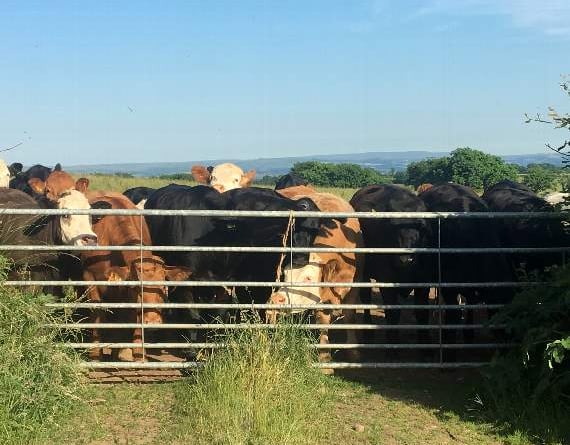 Subscribe newsletter
Subscribe to our email and get updates right in your inbox.
A WEST Devon peer has pledged to fight in the House of Lords to secure an amendment to a Government bill to protect local farmers from being undercut by cheap foreign imports from the US.
Fears have been raised of the market being flooded with chlorine-washed chicken and meat produced with indiscriminate use of antibiotics and growth hormones when Britain leaves the EU in December. Lord John Burnett told the House of Lords on Wednesday that the verbal assurances of farming minister Victoria Prentis that no trade deal would affect UK import standards did not go far enough.
'Despite their fine words, ministers come and go,' he said. 'Unless we impose the most compelling and robust statutory prohibitions on the Government, we shall be flooded with cheap, hormone-fed beef that is reared with scant regard for animal welfare and with other products that are equally substandard.
'For example, there are many crop sprays permitted in the United States which have been outlawed in the EU, and therefore in Britain, for years.'
Lord Burnett, himself a farmer who was MP for Torridge and West Devon until 2005, was speaking during the second reading of the Agriculture Bill in the House of Lord after an amendment to the bill banning imports of substandard food was thrown out by the House of Commons last month.
The amendment put forward by Devon Conservative MP Neil Parish (Tiverton and Honiton) after fierce lobbying by the National Farmers' Union, would have barred food imports produced to standards lower than those in the UK. Practices such as washing chicken carcasses with chlorine and feeding growth hormones to cattle are illegal here but widely practised in the US.
MPs Mel Stride (Central Devon) and Geoffrey Cox (Torridge and West Devon) both voted against the amendment, even though 22 Tory MPs defied the Government whip to do so. It was defeated by 51 votes, 277 votes for to 328 against.
A statement on behalf of Mel Stride in last week's edition said that whilst the MP wholeheartedly agreed with the aim, he feared that the assessment brought with it unintended consequences for example it would require an assessment of all the country's trading partners' standards for those trade deals from which it benefited and for this to be completed by the end of December in order to allow for the rollover of these arrangements. He did not think this was realistic and could well be at the detriment of Britain's farmers and others.He said the Government's 'clear manifesto commitment to uphold our standards' would still be met.With the bill now passing through the House of Lords, Lord Burnett said he was confident that he and his colleagues would succeed in replacing the amendment with one of their own that would achieve the same results. 'If we can't support our own countrymen, our own farmers, it would be a terrible dereliction of our duty,' he said. 'I believe we will have an all-party amendment in committee and I believe it will pass when we vote on the bill in the Lords. We will then send it back to the House of Commons and the Westcountry MPs who did not support it before will have the chance to think again.'
Comments
To leave a comment you need to create an account. |
All comments 0