New group formed to rejuvenate Gunnislake community
Thursday 10th March 2016 7:00 am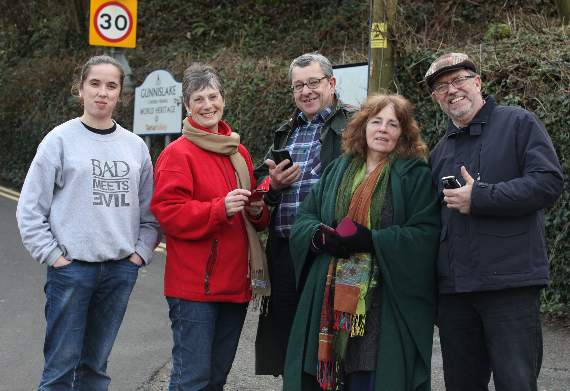 Subscribe newsletter
Subscribe to our email and get updates right in your inbox.
A NEW group hoping to breathe a fresh lease of life into an East Cornwall village has been set up and is encouraging people to get involved.
The group, Gunnislake Community Matters (GCM), was the brainchild of young villager Heidi Smith who wanted to put something back into Gunnislake, which she felt was starting to get tired.
She set up a Facebook group, which already has more than 350 followers after a month of being active, and has had a number of people come forward to support her idea and a committee has been formed.
Heidi said: 'I started the Facebook page on a whim as for several years in a row the Christmas lights were not what they used to be. Within three hours I had 350 members so it was clear to me that everyone else felt the same, Gunnislake needed to be picked up again.
'My aim is to help the already dwindling committees and inject new younger blood into them so the focus can be on giving the younger generation something too.
'By the end of the year I hope to have all new Christmas lights and a pot of money for projects in and around Gunnislake to get it back to what I remember it being as a child. The main problem was that no-one was being told that help was needed.'
At the first meeting of the new group, Ross Hanley was appointed chairman, Phil Green as vice chairman, Jane Ridsdill as secretary, Mike Choroszewski as treasurer and Lorna Baker as publicity officer. Heidi was chosen to be in charge of the group's social media.
Other people will be appointed or co-opted to the committee as the need arises.
Chairman Ross Hanley said: 'Thanks to the concerns of the younger generation in the village and, in particular Heidi Smith using social media, a groundswell of folk are beginning to work together.
'The overall aim is to improve community life in Gunnislake in all sorts of ways for all ages. GCM plans to sort through proposals put forward by any resident in the village to make Gunnislake an even better place to live, work and enjoy its surroundings.
'It was felt that we could do more than we are doing at the moment and we hope to make people aware that there are things going on in the village rather than them just sitting at home in front of the TV.'
Ross said the first public meeting was attended by around 30 people and a list of 44 ideas was produced about how to enhance the village.
Ideas included how to make the streets look more attractive, creating local historic and cultural trails, how to celebrate the Queen's 90th birthday and breathing new life into the public hall, among others.
The committee has narrowed down the initial projects to work from to three or four and will put these to residents at a public meeting planned for Tuesday, March 29.
The ideas are a street party to celebrate the Queen's birthday, raising money throughout the year for improved Christmas lights, to host a band night in the summer and planting flowers in the village to brighten up the streets and public areas.
'This is going to be a very, very public group,' said Ross. 'Nearly every decision we will make we will take to the residents first so that everyone is given the opportunity to have their say.
'The next meeting will be to put the bones behind the first three or four ideas. We need an awful lot of people to get behind us to help be able to get these projects off the ground.'
The group is keen to encourage involvement from all age groups. All residents are invited to join the Facebook page by searching 'Gunnislake Community Matters' on Facebook or for those not online, Ross can be contacted on 01822 834773 or email [email protected]
The meeting will take place at Gunnislake Public Hall on March 29 at 8pm.
Comments
To leave a comment you need to create an account. |
All comments 0