Ice cream kiosk goes ahead despite concerns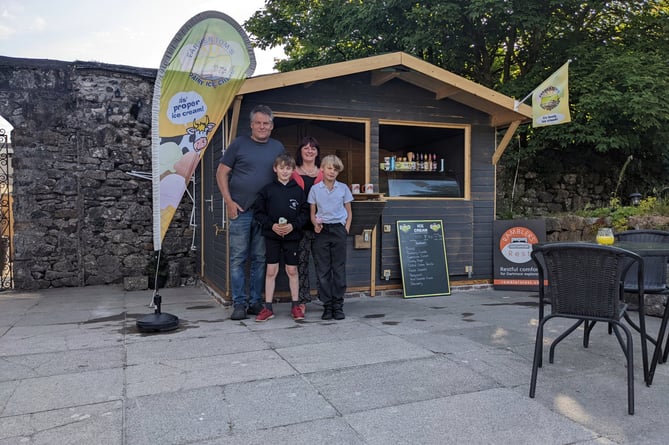 Princetown ice cream kiosk opens
()
Subscribe newsletter
Subscribe to our email and get updates right in your inbox.
A COUPLE who have opened an ice cream kiosk in a Dartmoor village despite opposition, have vowed to work with the community.
Nikki and Terry Hirst have built a wooden kiosk in Princetown and have been trading selling ice cream cones from it since last week, despite not having planning permission.
The pair, who run the Ramblers' Rest guest house, on Two Bridges Road, submitted a plan for the kiosk to be built at the rear of the guesthouse alongside the footpath onto Dartmoor to catch passing trade.
Dartmoor Forest Parish Council objected to the application for planning permission on the grounds it was not visually in keeping with the aesthetics of the village conservation area, being made of wood rather than local stone and would be visible from the road.
Other objectors said there was no need for the kiosk because ice creams could already be bought elsewhere in Princetown. They also feared it could generate rubbish and anti-social behaviour. The couple stress they are working on a more suitable design and say their packaging is compostable, they clear litter and are filling a gap in the market for scooped takeaway ice cream, identified when buying for their sons Ollie, 10, and Charlie, 11.
Nikki said: 'We understand the comments from the parish council and and absolutely respect the need to keep aspects aesthetically suitable in a conversation area. Many businesses have wooden shelters, even the primary school has a wooden building. However, our agent is drawing up plans to hopefully meet the requirements. We had to progress because we couldn't afford to miss the summer season.'
The kiosk was part of a submission on the site which included a cycle shed, for their guesthouse and a storage shed, were given final approval by Dartmoor National Park planning authority after support by the parish council. However, Nikki and Terry withdrew the kiosk from the application before it reached the national park planners 'because it was clear it would not meet the planning requirements'.
Nikki said this would enable them to revise their kiosk application and added: 'There weren't just objections, we received some support. The truth is that we're all about partnership working. We also believe that Princetown has a lot to offer and if all the local businesses work together we can create a fantastic destination and draw more visitors in, boosting the local economy. '
A Dartmoor National Park spokesperson said: 'This is an open enforcement case and we are in the early days of our investigation into this alleged breach of planning control but have spoken to the concerned residents and the occupiers agent with a view to resolving this matter.' In deciding whether to take enforcement action, the degree of harm being caused is considered.
Comments
To leave a comment you need to create an account. |
All comments 0