Dartmoor ponies reveal their value as conservation grazers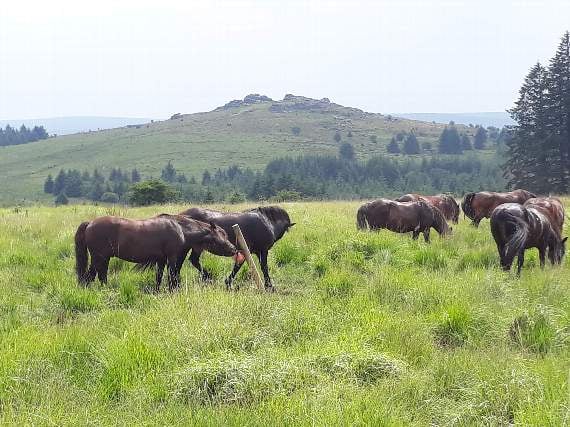 Ponies grazing at Bellever – research shows that ponies are being successfully tempted to keep down Molinia, aggressive type of grass encroaching on moorland.
Subscribe newsletter
Subscribe to our email and get updates right in your inbox.
DARTMOOR ponies are successfully being tempted by salt-lick to graze on an aggressive type of grass encroaching on high moorland at Bellever.
The first findings from research carried out by the Dartmoor Pony Heritage Trust (DPHT) and University of Plymouth have been welcomed as pointing to a future role for Dartmoor ponies on uplands countrywide.
Molinia is an aggressive type of grass which encroaches on moorland, crowding out other species.
When salt blocks were used to attract ponies to targeted areas of Molinia-dominated moorland at Bellever, their grazing and trampling reduced the dominance of the aggressive grass and gave other species – including heather (Calluna) – the chance to flourish.
The first findings of the research requested by Defra and Natural England were revealed at the Dartmoor Society's Annual Research Lecture on Friday (November 15).
Paul Lunt, associate professor of environmental science at Plymouth University, said the study showed that ponies were 'part of the solution to managing Molinia'.
He said: 'The findings from this study suggest that salt blocks can be used to attract ponies to targeted areas of Molinia-dominated moorland, where other management strategies are not sustainable. The increased grazing and trampling activity of the ponies in these areas can lead to a reduction in sward height and Molinia cover, facilitating increased germination and establishment of Calluna seedlings and plant species diversity. Thus, ponies may provide a suitable option for conservation-grazing schemes, where the desired effect is to reduce Molinia and re-establish Calluna.
'Our project was to look at ways to encourage the ponies away from their favoured area of mixed vegetation (short grass and dwarf shrub heath) grazing around Bellever Tor and Laughter Tor, onto an area dominated by coarser Molinia on Lakehead. The sustainable management of Molinia presents a serious challenge. Changes in management and climate have favoured Molinia and it is a major issue for many upland areas across the UK.'
The Dartmoor Pony Heritage Trust (DPHT) has its own grazing area, maintained under a Higher-Level Stewardship (HLS) Agreement, adjoining the Bellever site, and was delighted when the entire Bellever site was appraised earlier this month by its Natural England advisor as being highly successful.
Dru Butterfield, from DPHT, said the findings were 'very exciting' in appearing to offer a future role for Dartmoor ponies not just on their native moor but in other UK upland areas.
Dru said: 'Satellite imagery (from Google maps) clearly shows new pony tracks appearing through the Molinia as the ponies have changed their spatial pattern of grazing.
'Through the project, pony behaviour has undoubtedly changed. The impact they have made – and continue to make – and how these results could be extended, particularly to ponies on heathland and uplands throughout the country, is very exciting. It should be sufficient evidence to ensure that suitably hardy ponies of all types and breeds are recognised and appreciated as effective conservation grazers to support biodiversity and tackle some of the factors affecting our landscape such as the dominating Molinia.'
Comments
To leave a comment you need to create an account. |
All comments 0