Boom is a bust at Burrator Reservoir
Friday 9th November 2018 8:00 am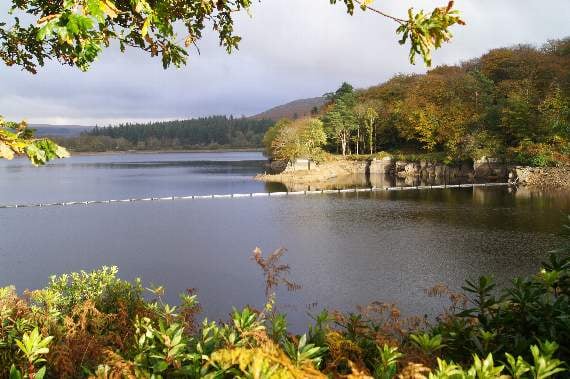 Pictures by Keith Scrivener
Subscribe newsletter
Subscribe to our email and get updates right in your inbox.
A DEBRIS boom installed at Burrator Reservoir last week has been labelled as an 'eyesore' and an 'insult' to the Dartmoor landscape.
The boom was put in place across the waters of the reservoir on Wednesday, October 31 by South West Water, which own the reservoir, to prevent items from blocking the apertures on the overflow weirs.
But the move by South West Water has upset and angered local residents, visitors and Burrator Parish Council, which has said the boom harmfully impacts the conservation and protection of the countryside.
The parish council, which met last Thursday (November 1), said it would contact SWW to raise questions about the reasons for the boom.
Councillors agreed a letter saying: 'This is a place of outstanding scenic beauty and we protest most strongly at the harmful impact this boom has on the appearance of the landscape here in this part of Dartmoor. Conservation and protection of the countryside and scenery in the national park should take priority over such impositions.'
Cllr Keith Scrivener said at the meeting: 'The lake has been there for 120 years and there has never been a need for a safety boom. People will be thinking that this will open the way to a flood of water sport activity and all the commercial enterprises that goes with that.
'Perhaps they are forgetting why people visit Burrator in the first place — to see and enjoy the solitude and unspoilt scenic beauty of this special place. Leave Burrator as it is.'
A South West Water spokesperson responded to the claims and said the boom was a legal requirement: 'A debris boom, just over 100 metres long, has been installed across the reservoir upstream of Burrator Dam. This is to prevent trees and branches, brought down in a major storm, from blocking the apertures on the overflow weirs.
'We were required to complete this work following a recent planned statutory inspection at Burrator by an independent reservoir engineer, licensed by the Reservoir Act 1975.
'The proposals have been seen and approved by the local planning authority Dartmoor National Park Authority.
'If we did not carry out this work, we could be prosecuted by our regulator, the Environment Agency.
'There are no plans for a sports activity centre at Burrator.'
• HIDDEN 'poo cams' signs have also appeared at Burrator Reservoir by South West Lakes Trust, warning people that hidden cameras are spying on dog walkers who do not clean up properly after their pets.
Motion activated wildlife cameras have been set up in the woods and lanes to watch and record people who do not take their dog poo home with them.
South West Lakes Trust, which manages the area around the lake, is urging people to 'respect this beautiful place' by taking their dog poo home with them, as well as other forms of rubbish.
Comments
To leave a comment you need to create an account. |
All comments 0