Fire service warns of dangers of barbecues
Tuesday 8th August 2017 3:00 pm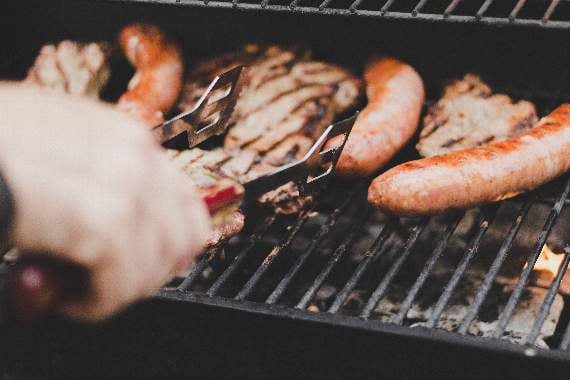 Photo by Andrik Langfield
()
Subscribe newsletter
Subscribe to our email and get updates right in your inbox.
A WARNING has been issued to West Devon residents by local firefighters over the dangers of barbecues this summer.
Despite an unusual spell of wet weather for August, which was seen last week, the summer months usually see a spike in call-outs for the fire brigades in Devon and Somerset due to fire and carbon monoxide related incidents.
Light evenings bring with it the need to barbecue, but behind the bangers and burgers, summer fun has a serious side, say West Devon firefighters.
As part of the Fire Kills campaign, local firefighters are asking everyone to take extra care when cooking outside, especially when lighting barbecues or dealing with bad weather.
Glenn Arundel, watch manager for Tavistock Fire Station, said: 'It's natural to want to go outdoors and enjoy the warmer weather with family and friends — many of us can't wait to get the barbecue lit. We all know how tempting it can be to give stubborn coals a helping hand, but, please be patient and make sure you use the right fuels for the job.
'And if you've planned a barbecue and the weather lets you down, don't take the barbecue indoors or into a tent. In recent years, some people have sadly succumbed to carbon monoxide poisoning as a result, so we are urging everyone to stay safe this summer.'
Tavistock firefighters now use and wear carbon monoxide detectors and are regularly called on by other nearby fire stations to attend incidents which require a gas reading.
One such incident was on April 30 in Fillace Park, Horrabridge.Yelverton firefighters requested the attendance of a Tavistock crew to inspect the property and high readings of the poisonous gas was found, not only in the property but next door as well, thanks to the detectors.
Glenn added: 'You cannot see carbon monoxide (CO), taste it or smell it but CO can kill quickly with little warning. Around 50 people die in the UK every year from CO poisoning caused by gas, oil and solid fuel appliances and flues that have not been properly installed, maintained or that are poorly ventilated.
'Never use a portable barbecue in your caravan, camper van or tents and please fit a carbon monoxide detector — it may well save your life!'
Follow the Fire Kills campaign's top tips to enjoy a safe barbecue this summer:
• Never leave a lit barbecue unattended.
• Follow the safety instructions provided with disposable barbecues.
• Never use a barbecue indoors.
• Make sure your barbecue is well away from sheds, fences, trees, shrubs or garden waste.
• Keep children, pets and garden games away from the cooking area.
• After cooking, make sure the barbecue is cool before moving it.
• Use enough charcoal to cover the base of the barbecue, but not more.
• Empty ashes onto bare garden soil, not into dustbins or wheelie bins. If they're hot, they can melt the plastic and cause a fire.
• Don't drink too much alcohol if you are in charge of a barbecue.
• Always keep a bucket of water, sand or a garden hose nearby for emergencies.
'This may seem a long list but most of these things are common sense,' added Glenn.
'By far the biggest danger is the use of flammable liquids to light the barbecue. We have had a couple of occasions where people have poured petrol onto the charcoal in an effort to get it going and the reaction has, not surprisingly, been violent and highly dangerous. Prepare well in advance and light the charcoal early. Most of all, enjoy yourself safely.'
Comments
To leave a comment you need to create an account. |
All comments 0